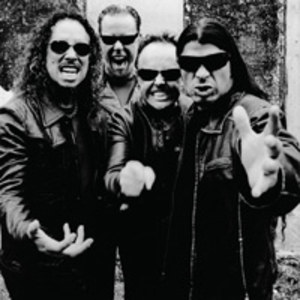 data powstania

1981

pochodzenie

USA
Biografia
Lars Ulrich i James Hetfield założyli Metallikę w 1981 roku. W ciągu kilku lat grupa stała się jednym z głównych (obok Slayer i Exodus) przedstawicieli nowej odmiany heavy metalu, której nadano nazwę thrash metal. Dziś zespół mieści się w pierwszej dziesiątce wykonawców, którzy sprzedali w USA największą ilość płyt.
Na samym początku Lars i James nagrywali we dwójkę, później dokooptowano dwóch muzyków - basistę Rona McGovney'a i gitarzystę Dave'a Mustaine'a (potem stanie on na czele Megadeth).
Jak podają biografie, nazwę "Metallica" zasugerował muzykom ich przyjaciel Ron Quintana. Już pod takim szyldem zespół zaczął koncertować w klubach w Los Angeles supportując między innym angielski Saxon. W tym mniej więcej czasie powstaje demo "No Life Til Leather".
W czasie grania w klubach skrzyżowały się drogi Metalliki i zespołu Trauma. W tym drugim basistą był Cliff Burton. Wkrótce zastąpił on w Metallice Rona McGovney'a. Niebawem nastąpiła też druga istotna zmiana w składzie - Dave'a Mustaine'a zastąpił Kirk Hammett z grupy Exodus. Jego kandydaturę zasugerował techniczny zespołu, Mark Whitakker.
W 1983 roku ukazała się debiutancka płyta Metalliki - "Kill 'Em All". Grupa wyruszyła następnie na koncerty w USA i Europie szybko zdobywając sobie przychylność fanów. Po powrocie z trasy muzycy rozpoczęli prace nad drugim albumem z duńskim producentem Flemmingiem Rassmussenem. Sesja nagraniowa odbyła się w Kopenhadze.
Płyta "Ride The Lightning" ukazała się latem 1984 roku i była dowodem na rozwój zespołu. Metallica zaproponowała dojrzalszą muzykę niż na debiucie, a kilka pochodzących z "dwójki" kompozycji na stałe weszło do repertuaru koncertowego.
W 1986 roku ukazała się płyta "Master Of Puppets", przez wielu uznawana za najlepszy metalowy album wszech czasów. Ponownie brzmienie płycie nadał Rassmussen, a materiał zmiksował w Los Angeles Michael Wagner. Album odniósł wielki sukces, a Metallica otrzymała możliwość otwierana koncertów Ozzy'ego Osbourne'a.
Niestety, w czasie trasy po Europie 27 września w wypadku autokarowym w Szwecji zginął Cliff Burton. Po przesłuchaniu ponad 40 kandydatów posadę zaproponowano Jasonowi Newstedowi, który wcześniej grał w grupie Flotsam & Jetsam (już nim zespół pojawił się po raz pierwszy w Polsce w 1987 roku).
Pierwszą pozycją w dyskografii już z nowym muzykiem była EP-ka "Garage Days Re-Revisited", na której znalazły się same przeróbki.
W 1988 roku ukazała się czwarta duża płyta Metalliki "...And Justice For All". Album osiągnął szóste miejsce na liście "Billboardu" oraz otrzymał nominację do nagrody Grammy. Metallika wyruszyła na światowe tournee, podczas którego dawała spektakularne koncerty. Wielkim przebojem z "...And Justice For All" stała się kompozycja "One", do której nakręcony został teledysk (za ten utwór Metallica dostała Grammy).
Największym sukcesem komercyjnym zespołu jest po dziś dzień wydany w sierpniu 1991 roku album "Metallica" (określany jako "czarny album"). Od tej płyty rozpoczęła się współpraca Metalliki z Bobem Rockiem. Wielkimi przebojami stały się utwory "Enter Sandman" oraz ballady "Nothing Else Matters" i "Unforgiven". Album "Metallica" wylądował na pierwszym miejscu list w wielu krajach świata. Do dziś sprzedano go w ponad 15 milionach egzemplarzy.
Muzycy wyruszyli następnie na trasę koncertową, która z przerwami trwała blisko trzy lata. W jej trakcie Metallica ponownie zawitała do Polski (sierpień 1991).
Kolejne wydawnictwo, "Load", ukazało się w czerwcu 1996 roku. Za konsoletą ponownie siedział Bob Rock. Zmianie uległ image muzyków, kompozycje złagodniały. W trakcie sesji nagraniowej "Load" powstało tak dużo utworów, że już w 1997 roku pojawiła się kolejna płyta Metalliki - "ReLoad". W pochodzącej z niego kompozycji "Memory Remains" gościnnie zaśpiewała Marianne Faithful. Zawartość muzyczna, co nie jest dziwne, bardzo przypominała tę z "Load", aczkolwiek nie znalazł się tu przebój na miarę "Until It Sleeps" czy "Mama Said".
Znowu tylko rok trzeba było czekać kolejne wydawnictwo Metalliki. Tym razem kwartet przygotował same przeróbki, które wypełniły dwa dyski. Nadano im tytuł "Garage Inc.". Stacje radiowe bardzo chętnie grały kawałek "Whiskey In The Jar" znaną z wykonania Thin Lizzy, do którego nakręcono wideoklip.
W 1999 roku ponownie doszło do współpracy Metalliki z kompozytorem muzyki filmowej i dyrygentem Michaelem Kamenem. Jej efektem jest podwójna płyta koncertowa nagrana z orkiestrą symfoniczną z San Francisco, a zatytułowana "S&M".
Po wydaniu płyty z orkiestrą na kolejny album Metalliki przyszło czekać blisko cztery lata. W tym czasie zaszły w zespole poważne zmiany. W styczniu 2001 roku pożegnał się z nim Jason Newsted (dołączył na krótko do Echobrain, a następnie do kanadyjskiego Voivod). Kilka miesięcy później James Hetfield zgłosił się na leczenie odwykowe. Przyszłość Metalliki zawisła na włosku, zwłaszcza że muzycy mieli od jakiegoś czasu problemy ze znalezieniem wspólnego języka.
Na szczęście James powrócił wyleczony. Uzdrowieniu uległy też stosunki wewnątrz zespołu, a stało się tak dzięki zatrudnieniu terapeuty Phila Towle'a. Powrót do zdrowia lidera, a także przebieg zespołowej terapii dokumentuje film "Metallica: Some Kind Of Monster", który do polskich kin wszedł na początku sierpnia 2004 roku. Sesja nagraniowa nowego albumu została dokończona. Partie basu nagrał Bob Rock.
W czerwcu 2003 roku ukazała się płyta "St. Anger", która wywołała chyba najwięcej dyskusji spośród wszystkich wydawnictw Metalliki. Kompozycje są znacznie ostrzejsze niż na poprzednich dwóch albumach, ale na ponadgodzinnym materiale nie ma ani jednej solówki. Do tego dochodzi bardzo surowe brzmienie perkusji.
Już po sesji nagraniowej 'St. Anger" dołączył do Metalliki nowy basista, Robert Trujillo, który wcześniej grał w Suicidal Tendencies i zespole Ozzy'ego Osbourne'a. Z nim zespół wyruszył na tournee promujące album, które okazało się wielkim sukcesem. W jego trakcie, 31 maja 2004, Metallica ponownie odwiedziła Polskę.