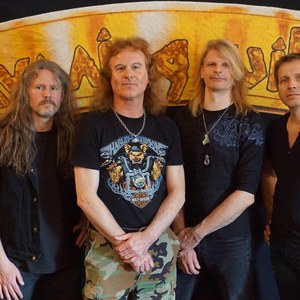 data powstania

1979

pochodzenie

Niemcy
Biografia
Running Wild to niemiecka formacja muzyczna spod znaku ciężkich brzmień z okolic heavy, speed i power metalu. W warstwie muzycznej zespół porusza tematy związane z morskimi historiami i pirackimi legendami.
Grupa powstała w 1976 roku. Przez pierwsze trzy lata działała pod szyldem Granite Hearts. W latach 2009-2011 zespół nie był aktywny.
Running Wild w dyskografii ma 17 studyjnych albumów oraz kilka wydawnictwa typu split i EP. Debiutancki pełnowymiarowy krążek "Gates to Purgatory" ujrzał światło dzienne w 1984 roku. Ostatnią dużą płytą jest "Rapid Foray" z 2016 roku.
Jesienią 2019 roku zespól zapowiedział kolejne wydawnictwa. Najpierw w ręce fanów ekipy z Hamburga trafi EP-ka "Crossing The Blades" (premiera 6 grudnia 2019 roku), a latem 2020 osiemnasty długogrający album.
Obecny skład Running Wild tworzą: Rock 'n' Rolf (wokal, gitary, bas) i Peter Jordan (gitary).