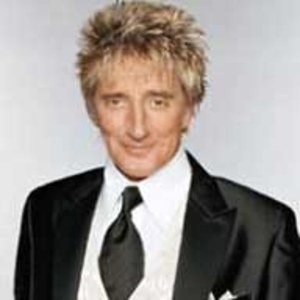 data urodzenia

10 stycznia 1945

pochodzenie

Szkocja
Biografia
Rod Stewart urodził się w Londynie w 1945 roku. Początkowo przyszłość wiązał z piłką nożną - grał w klubie Brentford. Zanim zajął się muzyką profesjonalnie przez kilka lat roku jeździł po Europie z brytyjskim wokalistą folkowym Wizzem Jonesem. Od 1963 roku grywał po klubach z różnymi muzykami. Wśród nich byli między innymi John Paul Jones (później w Led Zeppelin) i Mick Fleetwood (Fleetwood Mac), aż ostatecznie opuścił Londyn i związał się z grupą Long Johna Baldry'ego.
W połowie lat 60. Baldry sformował zespół Steampacket (Baldry, Stewart i Julie Driscoll), który odniósł kilka sukcesów, między innymi supportował The Rolling Stones i The Walker Brothers, jednak niebawem rozpadł się z powodu różnic artystycznych. Wtedy Rod przyłączył się do Grupy Jeffa Becka, której ciężkie bluesowo-rockowe brzmienie znajdywało wielu zwolenników po obydwu stronach Atlantyku. Jeff Beck Group wydała 2 albumy, a jej muzyka stała się zaczątkiem nurtu heavy metalu. Niestety również ta formacja rozpadła się w 1969 roku i Stewart oraz gitarzysta Ron Wood wstąpili do zespołu The Small Faces, który zmienił nazwę na The Faces .
W tym czasie Stewart podpisał swój pierwszy kontrakt solowy i wydał album "An Old Raincoat Won't Let You Down", który w Stanach ukazał się jako "The Rod Stewart Album". Było to oryginalne rockandrollowe brzmienie osadzone mocno w korzeniach folkowych, bluesowych i R&B. Prawie w tym samym czasie ukazała się płyta The Faces - "First Step". Stewart był już wtedy popularny zarówno w Europie jak i za oceanem. Szczególnie tam zyskiwał coraz większą sławę.
W 1971 roku na rynku pojawił się kolejny album Roda - "Every Picture Tells a Story", który uplasował się na 1. miejscu zestawienia najlepiej sprzedających się LP w Wielkiej Brytanii i USA, co było niespodzianką na skalę światową. Również singiel pochodzący z tej płyty - "Maggie May" okupował szczyty list przebojów. Rok później krążek The Faces "A Nod is as Good as a Wink to a Blind Horse" znalazł się w US Top 10. Wtedy też okazało się, że Stewart jest zbyt popularny aby nadal grać z zespołem i 1975 roku wokalista definitywnie opuścił The Faces.
Teraz już tylko jako solista Rod wydał kolejny album "Smiler", który osiągnął podobny sukces jak "Every Picture...". Niebawem wokalista zaangażował się w głośny romans ze szwedzką aktorką Britt Ekland i popadł w tarapaty fiskalne w Wielkiej Brytanii - czego wynikiem stała zmiana obywatelstwa na amerykańskie. Nikogo też nie zdziwił tytuł kolejnego longplaya artysty - "Atlantic Crossing".
W 1976 roku ukazał się multiplatynowy album "A Night on the Town". To wielkie powodzenie zawdzięczał przede wszystkim piosence "Tonight's the Night". Również kolejna płyta "Foot Loose and Fancy Free" trzykrotnie pokryła się platyną. Pop koniec lat 70. w muzyce Roda pojawiły się elementy disco. Słychać to wyraźnie na płycie "Blondes Have More Fun", promowanej singlem "Da Ya Think I'm Sexy?", która stała się numerem 1 wśród albumów w Stanach i sprzedała się w ponad 4 milionach egzemplarzy. Wtedy też wokalista był w centrum zainteresowania dziennikarzy i publiczności nie tylko ze względu na muzykę ale ciekawość budziło też jego bogate życie towarzyskie z aktorkami i modelkami.
Na przełomie lat 70. i 80. Rod jeszcze silniej zwrócił się w kierunku disco, new wave i synth-popu. Wtedy też ukazał się kolejny platynowy album "Tonight I'm Yours" (1981). Niestety kolejne 4 longplaye okazały się zupełnym nieporozumieniem i artysta pozostawał w cieniu, wydawało się, że jego kariera dobiega końca. Stewart przypomniał o sobie w 1988 roku płytą "Out of Order", nagraną z Andym Taylorem z Duran Duran. Z tego krążka pochodzi cover piosenki Toma Waitsa "Downtown Train", która ukazała się na singlu i stała się jednym z największych przebojów Roda. Przyniosła także wokaliście nominację na nagrody Grammy.
W nową dekadę Rod wszedł na fali popularności, szczególnie wśród nieco starszej publiczności. W 1993 roku nagrał dla MTV koncert unplugged, który został wydany jako album i również zdobył uznanie słuchaczy. W drugiej połowie lat 90. Stewart nagrał krążek z coverami utworów alternatywnych formacji brytyjskich takich jak Oasis ("Cigarettes and Alcohol"), Primal Scream ("Rocks") czy Skunk Anansie ("Weak").
W 2000 roku artysta poddał się poważnej operacji gardła a rok później powrócił ze swoim 23. albumem - "Human". Jesienią 2002 na rynku pojawił się kolejny krążek - "It Had To Be You... The Great American Songbook", na którym znalazły się nowe wersje popularnych amerykańskich standardów z lat 30., skomponowanych przezują się takie klasyki, jak "The Nearness of You", "I'll Be Seeing You" czy "That Old Feeling".
Niespełna rok później wokalista przygotował drugą część tego albumu - "As Time Goes By... The Great American Songbook Vol II". Znalazły się tam nowe wersje kolejnych standardów muzyki amerykańskiej przełomu wieku. Stewart i tym razem nagrał wszystkie kompozycje z towarzyszeniem orkiestry symfonicznej. Wśród 14 klasyków, znajduje się między innymi utwór "Bewitched, Bothered and Bewildered", temat zaśpiewany w duecie z Cher. Z kolei w utworze "As The Time Goes By" wokaliście towarzyszy Queen Latifah.
(Źródło: RMF FM)