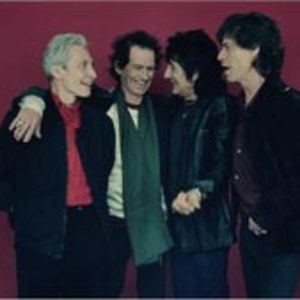 data powstania

1962

pochodzenie

Wielka Brytania
Biografia
The Rolling Stones - w nazwie tej zawiera się chyba cała historia rocka 2 połowy XX wieku. To z nimi wiążą się największe i najgłośniejsze wydarzenia, skandale i ekscesy. Krótko mówiąc, "sex, drugs & rock'n'roll". To do nich nawiązuje większość dzisiejszych muzyków rockowych. Zespół, który był lansowany jako przeciwieństwo The Beatles, stał się wyrocznią, wzorem, twórcą standardów, klasyką. Od szeregu już lat ma swoje miejsce wśród tych, którzy stali się legendą.
Początkiem The Rolling Stones był pierwszy zespół Micka Jaggera i Keitha Richardsa - Little Boy Blue And The Blue Boys. Niebawem nazwa uległa zmianie i w 1962 roku powstał zespół The Rolling Stones. Nazwę dla najsłynniejszej grupy rockowej świata Jagger zaczerpnął z piosenki legendarnego amerykańskiego bluesmana, Muddy'ego Watersa.
Stonesi osiągnęli w latach 60. wielką sławę, której przejawem były tłumy histerycznie reagujących fanek i fanów na koncertach i miliony sprzedanych singli i płyt. Nieśmiertelne stały się wylansowane w tym dziesięcioleciu przeboje z "Paint It Black", "Ruby Tuesday", "Sympathy For The Devil" oraz "Satisfaction" na czele, którego riff gitarowy uznano za współczesny odpowiednik motywu przewodniego V Symfonii Beethovena. W pierwszym okresie Rolling Stones nawiązywali stylistycznie do "czarnej" muzyki amerykańskiej, słychać było wyraźne inspiracje twórczością Chucka Berry'ego i bluesem. Trzon zespołu stanowili wówczas Mick Jagger, Kieth Richards i Brian Jones.
Jednak w tamtym okresie miały także miejsce wydarzenia tragiczne - przede wszystkim pamiętny koncert w Altamont w Kalifornii (1969), który miał być odpowiedzią Jaggera na festiwal w Woodstock (gdzie Stonesi nie wystąpili), a zaowocował kilkoma ofiarami śmiertelnymi. Członkowie grupy nadużywający alkoholu i narkotyków byli kilkakrotnie karani za ich posiadanie. W tym czasie zmarł również gitarzysta Brian Jones, którego niebawem zastąpił Mick Taylor.
Pomimo wszystko lata 70. to pasmo dalszych sukcesów The Rolling Stones, udane płyty i wyprzedane trasy koncertowe, na których na gitarze grał już Ronnie Wood z The Faces. Jednak pod koniec lat 70. wraz z inwazją punkrocka, dla młodzieży Rolling Stones z buntowników przekształcili się wręcz w symbol poprzedniej epoki, zgodnie ze sloganem "No Elvis, Beatles, Stones".
Kiedy w latach 80. aktywność The Rolling Stones zmalała muzycy poświęcili się karierom solowym i aktorskim. Jagger nagrał kilka płyt jednak nie odniosły one specjalnego sukcesu. Na początku lat 90. Stonesi przypomnieli o sobie całemu światu i rozpoczęli największą w historii, mega trasę koncertową.
Trudno zliczyć ile koncertów w karierze zagrali muzycy The Rolling Stones, wbrew pozorom trudno jest nawet zliczyć ile wydali płyt, według różnych danych ukazało się prawie 50 albumów grupy (nie licząc różnych kompilacji, składanek i wydawnictw okolicznościowych). Są między nimi takie tytuły jak: "The Rolling Stones", "Out of Our Heads", "Aftermath", "Their Satanic Majesties Request", "Let It Bleed", "Beggars Banquet", "Sticky Fingers", "Milestones", "Black and Blue", "Still Life", "Undercover", "Flashpoint".
30 września 2002 roku ukazał się podwójny album "Forty Licks" z największymi przebojami legendarnej grupy, pochodzącymi z lat 1962-2002. Jest to podsumowanie dorobku Micka Jaggera i jego kolegów. Na płycie znalazło się 36 zremasterowanych utworów oraz cztery premierowe. Jest to pierwsze takie wydawnictwo w 40-letniej historii zespołu. W sumie ponad 2,5 godziny muzyki, dobranej z myślą nie tylko o wiernych fanach, ale również o tych, którzy zechcą dopiero poznać, kim byli i są The Rolling Stones.
Dwa lata później do sklepów trafiło podwójne wydawnictwo "Live Licks", nagrane podczas trasy w latach 2002/03. Z kolei we wrześniu 2005 roku ukazała się "A Bigger Bang", pierwsza studyjna płyta zespołu od czasu "Bridges To Babylon" (1997). Materiał powstał we Francji jesienią 2004 roku i w pierwszej połowie 2005 roku pod okiem producenta Dona Wasa. Album promował podwójny singel "Rough Justice" / "Streets Of Love", który zadebiutował na 15. miejscu na brytyjskiej liście. Kolejnym singlem był utwór "Rain Fall Down".
21 sierpnia 2005 roku w Bostonie rozpoczęła się światowa trasa promująca "A Bigger Bang". Chcoć złośliwi od razu dodają, że to na pewno pożegnanie rockowych weteranów ze sceną, jednak ci wcale nie zamierzają przechodzić na emeryturę. W ramach tego tournee The Rolling Stones ponownie wystąpią w Polsce - zagrają 18 czerwca 2006 roku na warszawskim lotnisku Bemowo.
(Źródło: RMF FM, uzupełnienia własne)