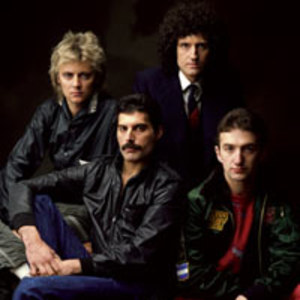 data powstania

1971

pochodzenie

Wielka Brytania
Biografia
Zespół Queen powstał w 1971 roku w Londynie. Od początku tworzyli go: Freddie Mercury (wokal i fortepian), John Deacon (gitara basowa i klawisze), Roger Taylor (perkusja, klawisze i wokale) oraz Brian May (gitara, klawisze i wokale). Dwa lata później zespół podpisał pierwszy kontrakt płytowy i wydał debiutancki album "Queen". W 1974 roku ukazała się płyta "Queen II", a muzycy ruszyli w trasę koncertową po Wielkiej Brytanii. Niebawem wystąpili w Stanach, a w listopadzie wydali kolejną płytę "Sheer Heart Attack", która cieszyła się sporym powodzeniem po obu stronach Atlantyku.
W 1975 roku Queen zaprezentowali następny album "A Night at the Opera", ukazał się również singiel "Bohemian Rhapsody". Trwający 5'55" utwór okazał się jednym z najpopularniejszych singli w dziejach rocka. Przez 9 tygodni utrzymywał się na pierwszym miejscu brytyjskiej listy przebojów. Wyreżyserowany przez Bruce'a Gowersa teledysk do tej piosenki uznawany jest za pierwszy klip promocyjny. Wielki sukces "A Night at the Opera" był równie zdumiewający - album, jako pierwszy w karierze grupy, otrzymał status platynowej płyty.
Na wiosnę 1976 roku wszystkie cztery płyty zespołu znalazły się na liście 20 najlepszych albumów w Wielkiej Brytanii. Jeszcze w tym samym roku ukazała się płyta "A Day at the Races". Rok później kolejna "News of the World" i legendarny już, podwójny singiel, "We Will Rock You/We Are The Champions".
Na wydanym w 1978 roku krążku "Jazz" znalazł się kolejny wielki przebój - "Bicycle Race". Większość 1979 roku grupa spędziła koncertując w Europie i Japonii. Ukazał się wtedy ich pierwszy album koncertowy - "Live Killers". Ponadto Queen poproszono o skomponowanie ścieżki dźwiękowej do filmu "Flash Gordon". Jednak zanim to nastąpiło, zespół wydał w 1980 roku płytę "The Game". Pochodzący z tej płyty "Another One Bites The Dust" został najlepiej sprzedającym się singlem grupy w Stanach. Pod koniec roku ukazała się ścieżka do "Flash Gordon", a łączna sprzedaż płyt Queen na świecie przekroczyła 45. 000. 000.
W 1981 roku ukazały się równocześnie trzy płyty: "Greatest Hits", " Greatest Flix" i "Greatest Pix". "Greatest Flix" było pierwszym w historii zbiorem teledysków wypuszczonym na rynek. Rok później, w trakcie europejskiego tournee ukazał się dwunasty album Queen - "Hot Space".
1984 rok to premiera "The Works". Singiel "Radio Ga Ga" na całym świecie stał się wielkim hitem, w 19 krajach dotarł na pierwsze miejsce list przebojów. Kolejnym hitem z płyty okazało się "I Want To Break Free". Utwór promował jeden z najsłynniejszych teledysków w historii grupy, w którym wszyscy muzycy wystąpili przebrani za kobiety. W 1985 roku po raz kolejny zespół zapisał się w historii dzięki fantastycznemu koncertowi dla Live Aid na stadionie Wembley. Występ ten okazał się punktem zwrotnym w karierze grupy. Pierwszym wydawnictwem po Live Aid było "One Vision".
Rok 1986 to premiera 14. płyty - "A Kind Of Magic", która była ścieżką dźwiękową do filmu "Nieśmiertelny" Russela Mulcahy'ego. Utwór tytułowy stał się kolejnym wielkim przebojem, a płyta zadebiutowała na liście w Wielkiej Brytanii na 1. miejscu. Wydany w tym samym roku album koncertowy - "Live Magic", wskoczył od razu na miejsce trzecie zestawienia. W latach 1988-1991 ukazały się jeszcze trzy płyty: "The Miracle" (1989), "Innuendo" (1991) i "Greatest Hits Two" (1991). Wszystkie trzy albumy, a także singiel "Innuendo" zadebiutowały na 1. miejscu na brytyjskiej listy.
23 listopada 1991 Freddie Mercury obwieścił całemu światu, że choruje na AIDS. Następnego dnia zmarł w domu, otoczony przez rodzinę i przyjaciół. Wiadomość o śmierci Mercury'ego była prawdziwym wstrząsem dla fanów. W hołdzie Freddiemu wydano podwójny singiel "Bohemian Rhapsody/These Are The Days Of Our Lives", z którego dochód miał wspomóc Terence Higgins Trust. Na cele charytatywne udało się zebrać ponad L 1,000,000, a zespół jako pierwszy w historii zdobył tym samym singlem dwukrotnie 1. miejsce na brytyjskiej liście. W 1992, podczas rozdania BRIT Awards, Freddie Mercury otrzymał pośmiertnie nagrodę za wybitny wkład w muzykę brytyjską, zaś "Days Of Our Lives" nagrodzono statuetką dla najlepszego singla. 20 kwietnia Brian, Roger i John wraz z grupą największych światowych gwiazd uczcili pamięć Freddiego koncertem na Wembley.
W 1995 roku trzej członkowie grupy Queen zakończyli pracę nad materiałem, który zaczął powstawać jeszcze w 1991 roku. Ukazała się długo oczekiwana płyta "Made In Heaven". Jej premiera oznaczała koniec pewnej ery. Od tamtej pory fenomen Queen trwa. Pierwsze DVD Queen - "Greatest Video Hits Vol.1", ukazało się w październiku 2002 i po raz kolejny grupa królowała ze swoim wydawnictwem na brytyjskiej liście. Jeszcze w tym samym miesiącu grupa otrzymała własną gwiazdę na hollywódzkim Walk of Fame.
(Źródło: RMF FM)