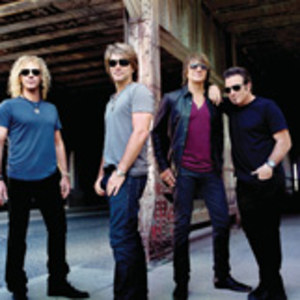 fot. Universal Music Polska
data powstania

1983

pochodzenie

USA
Biografia
Zespół Bon Jovi powstał w New Jersey w 1983 roku. Wtedy to John Bongiovi - został gońcem w nowojorskim studiu Powerstation. W wolnych chwilach tworzył własną muzykę. O najdziwniejszych porach, wykorzystując puste studio nagrywał swoje piosenki. Taśmy demo rozsyłał, bez powodzenia, do stacji radiowych w Nowym Jorku i Los Angeles. Jedną z wówczas nagranych piosenek była "Runaway". To właśnie ten utwór DJ Chip Hobart z radia WAPP umieścił na składance - kompilacji nagrań lokalnych artystów bez kontraktu płytowego.
John nie miał kontraktu, ale piosenka zaczęła żyć własnym życiem. WAPP zorganizował kilka koncertów, pojawił się jednak problem - nie było zespołu. Wtedy wokalista zabrał kilku znajomych i tak powstała grupa, która zaczęła grać pod nazwą John Bongiovi and The Wild Ones. Kiedy John w 1983 roku odpisał kontrakt z Mercury Records, skład zespołu był już ustalony: John Bongiovi, David Bryan, Tico Torres, Alec John Such i Richie Sambora. John usunął "h" ze swojego imienia, a nazwisku nadał pierwotne brzmienie. Narodził się zespół Bon Jovi.
Pierwszy album zespołu "Bon Jovi" ukazał się w 1984 roku. Płyta sprzedała się w 1,5 milionowym nakładzie. W samej Japonii wysprzedano ją w ciągu trzech dni. Po takim debiucie grupa wydała szybko drugi album "7800 Degrees Fahrenheit". Niestety płyta spotkała się z krytycznymi ocenami. Po 6 miesięcznej trasie członkowie zespołu postanowili udowodnić wszystkim, którzy ich krytykowali jak bardzo się mylili, w związku z tym rozpoczęli pracę nad 3 krążkiem.
I udało się, w 1986 roku wydali jeden z najlepszych albumów lat 80. - "Slippery When Wet". Pierwszy singiel "You Give Love A Bad Name" od razu stał się hitem i trafił na 1. miejsca list przebojów, podobnie "Livin' On A Prayer". Trzeci utwór - "Wanted Dead Or Alive" nie odniósł już takiego sukcesu, ale stał się najbardziej rozpoznawanym utworem zespołu. Płyta osiągnęła nakład 15 milionów egzemplarzy.
Kolejny album był nie lada wyzwaniem - chłopcy musieli udowodnić, że wcześniejszy sukces nie był dziełem przypadku. Jak się okazało nowa płyta "New Jersey" stała się hitem pod względem muzycznym jak i kasowym. Niemal każdy singiel zdobywał ogromną popularność, wystarczy wspomnieć "Bad Medicine", "Born To Be My Baby", "I'll Be There For You", "Lay Your Hands On Me" i "Living In A Sin". Ten album był bardziej dojrzały, zarówno pod względem muzycznym, jak i tekstowym.
W roku 1990 Jon rozpoczął karierę solową i nagrał płytę "Blaze of Glory". Piosenka pod tym samym tytułem stała się tematem do filmu "Młode Strzelby II" i została nagrodzona Złotym Globem i nominowana do Oscara. Podobnie poczynił gitarzysta - Richie Sambora - nagrał płytę "Stranger In The Town".
Jednak obydwaj panowie zrezygnowali z karier solowych i w 1992 po 4 latach milczenia zespół Bon Jovi wydał nowy longplay "Keep The Faith" - tytułowy singiel stał się oczywiście hitem. Kolejnym przebojem z płyty była nastrojowa ballada "Bad Of Roses". Po sukcesie "Keep The Faith" kapela postanowiła wydać składankę "Crossroad".
Zespół znowu ruszył w trasę promującą album, równocześnie powstawał kolejny krążek "These Days". W 1997 roku Jon wydał swoją drugą solową płytę "Destination Anywhere". Muzycy jako zespół potkali się ponownie na początku 1999, w celu nagrania piosenki "Real Life" do filmu "Biegnij Lola, biegnij". Rok później zespół powrócili z albumem "Crush", na którym znalazł się przebój "It's My Life".
W 2002 roku Bon Jovi nagrał kolejny studyjny album, zatytułowany "Bounce". Materiał w całości powstał w New Jersey, rodzinnym mieście muzyków. Tytuł ("Odbić się") miał być odzwierciedleniem nastrojów w Ameryce po pamiętnych zamachach terrorystycznych z 11 września 2001 roku. Na pierwszym singlu promującym album wydano nagranie "Everyday".
Natomiast już rok później grupa wydała płytę "This Left Feels Right", której podtytuł brzmi "Their Greatest Hits... With A New Twist". I rzeczywiście - nie jest to jedynie zbiór największych przebojów formacji. Wszystkie utwory znajdujące się na krążku zostały rozebrane na czynniki pierwsze, przekonstruowane, na nowo zaaranżowane i nagrane. Efekt jest niesamowity: piosenki pozornie znane, zostały tak odmienione, że czasem można mieć kłopoty z ich rozpoznaniem.
Pod koniec 2004 roku ukazało się wydawnictwo "100000000 Bon Jovi Fans Can't Be Wrong", zawierające cztery płyty audio i DVD, osobiście przygotowane przez członków zespołu. Trzy pierwsze płyty zawierały 38 wcześniej niepublikowanych utworów. Na czwartym albumie znalazły się z kolei nagrania ze ścieżek filmowych i innych, trudno dostępnych, wydawnictw.
Na kolejny studyjny album fani musieli czekać do połowy września 2005 roku, kiedy ukazała się "Have A Nice Day", dziewiąta studyjna płyta grupy. Promowały ją utwór tytułowy i "Welcome To Wherever You Are". Za produkcję odpowiadał John Shanks, pracujący wcześniej m.in. z Sheryl Crow, Alanis Morissette, The Corrs, Rodem Stewartem i Joe Cockerem, w 2004 roku nagrodzony Grammy jako "producent roku".
W czerwcu 2007 roku zespół wydał swój studyjny album zatytułowany "Lost Highway". Singlami zwiastującymi płytę były: melodyjna ballada "(You Want To) Make A Memory", a także "Lost Highway", które znalazło się na ścieżce dźwiękowej do filmu "Dzikie wieprze" z Johnem Travoltą w roli głównej.
Kolejne wydawnictwo formacji ukazało się w listopadzie 2009 roku. Jak twierdzili członkowie zespołu: "płyta jest powrotem do rock and rolla". Album zatytułowany "The Circle" zawiera 12 kompozycji utrzymanych w gitarowych - charakterystycznych dla Bon Jovi brzmieniach. Przy nagrywaniu materiału muzyków wspomagał John Shanks - współpracujący z Bon Jovi przy produkcji ostatnich dwóch płyt. Singlem promującym wydawnictwo było nagranie "We Weren't Born To Follow". Drugim utworem pilotującym płytę zostało nagranie "Superman Tonight".
W 2010 roku grupa zdecydowała się wydać składankę ze swoimi największymi przebojami. "Muzyka stanowi punkty orientacyjne w naszym życiu. To, że słuchacze wiążą nasze piosenki ze swoimi najważniejszymi wspomnieniami, chwilami w życiu to dla nas lekcja pokory. Jesteśmy szczęśliwi, że mamy fanów w różnorodnym wieku, którzy pokonują wszelkie bariery językowe i różnice kulturowe" - mówił frontman grupy przed wydaniem kompilacji.
Standardowa edycja "Greatest Hits" zawiera 16 klasycznych hitów grupy oraz dwa premierowe utwory "No Apologies" i "What Do You Got?"."Greatest Hits - The Ultimate Collection" to dwupłytowe wydawnictwo z 28, wybranymi przez fanów piosenkami. Zawiera dodatkowe dwa premierowe nagrania: "This Is Love, This Is Life" oraz "The More Things Change".
(Źródło: RMF FM, Universal, uzupełnienia własne)