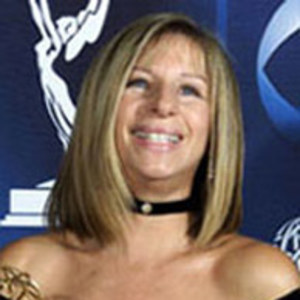 data urodzenia

24 kwietnia 1942

pochodzenie

USA
Biografia
Barbra Streisand urodziła się w kwietniu 1942 roku w Brooklynie. Jako nastolatka, wzorowa uczennica Erasmus High School, wkroczyła samodzielnie w świat showbiznesu wygrywając konkurs piosenki w klubie na Manhattanie. Stopniowo zdobyła sobie nowojorską publiczność i zwróciła na siebie uwagę przemysłu muzycznego występując w miejscach takich jak Bon Soir i The Blue Angel.
W 1962 roku Brabra podpisała kontrakt z Columbia Records, a jej debiutancki album szybko stał się najlepiej sprzedającą się płytą w Ameryce nagraną przez kobietę. Wkrótce została zaangażowana do roli komediantki Fanny Brice w słynnej broadwayowskiej produkcji "Funny Girl". Dzięki swojemu oryginalnemu występowi otrzymała nominację do nagrody Tony.
Pierwszy album "The Barbra Streisand Album", wydany został w 1963 roku i przyniósł artystce dwie nagrody Grammy, w tym za Album Roku. Barbra była wówczas najmłodszą piosenkarką, której udało się wygrać w tej kategorii.
Stając się coraz bardziej popularną, artystka podpisała dziesięcioletni kontrakt z CBS Television na produkcję i występy w programach telewizyjnych. Show "My Name Is Barbra" otrzymał 5 nagród Emmy, a kolejne 4 miały największą oglądalność zarówno wśród widzów jak i krytyków.
Kiedy "Funny Girl" ukazał się w wersji kinowej oprócz Nagrody Akademii w 1968 roku, Barbra otrzymała także Złoty Glob i została uznana za Gwiazdę Roku przez The National Association of Theatre Owners. Po występach w filmach "Hello Dolly!" i "On A Clear Day You Can See Forever", zagrała w 1970 roku główną rolę w komedii "The Owl And The Pussycat". W 1972 pojawił się jej kolejny głośny przebój komediowy "What's Up Doc?", a następnie "Up the Sandbox". Był to także premierowy film jej własnej firmy produkcyjnej Barwood Films.
Pamiętny film "The Way We Were" w 1973 przyniósł aktorce nominację do Oscara. W filmie "Narodziny gwiazdy" po raz pierwszy Barbra pokazała swoje umiejętności producenckie, co przyniosło filmowi 6 Złotych Globów. Soundtrack osiągnął wielokrotny status platyny, a za motyw przewodni do tego filmu Barbra dostała Oscara. Tym samym była pierwszą kobietą, która została nagrodzona w kategorii najlepszego kompozytora.
Wkrótce Barbra postanowiła nakręcić swój drugi film "Yentle" ale dopiero po 14 latach starań marzenie to mogło się spełnić. Za swój debiut reżyserski Streisand otrzymała 4 nominacje do Oscara, Złote Globy dla najlepszego reżysera i producenta najlepszego filmu komediowego lub muzycznego w 1984 roku. Jej druga kreacja reżyserska to film "Książe przypływów", który otrzymał 7 nominacji do Oscara.
Poza aktorstwem Barbra cały czas zajmowała się muzyką. "The Broadway Album" z 1985 roku to tylko jedna z wielu płyt, która już po pierwszym tygodniu sprzedaży osiągnęła status platynowej, ponadto album przyniósł artystce trzy nominacje do nagrody Grammy oraz po raz ósmy nagrodę w kategorii Najlepszej Wokalistki. Nagrała również album klasyczny, "Classical Barbra", który też został nominowany do nagrody Grammy. Także album "Back To Broadway" oraz podwójny "Barbra Streisand: The Concert" powtórzyły sukces poprzednich wydawnictw.
Wydany w 1997 roku album "Higher Ground" promowany był singlem zatytułowanym "Tell Him", zaśpiewanym w duecie z Celine Dion. W przedsięwzięciu wzięło udział kilku znanych producentów, kompozytorów i aranżerów. Wśród nich znaleźli się między innymi: David Foster, Walter A., Marvin Hamlisch i Arif Martin.
W listopadzie 2001 roku ukazała się kolejna płyta w dyskografii artystki zatytułowana "Duets". Na płycie znalazło się 18 kompozycji, na których wokalistka zaśpiewała wspólnie z takimi sławami jak: Celine Dion, Judy Garland, Bryan Adams, Kris Kristofferson, Don Johnson, Barry Gibb, Frank Sinatra, Barry Manilow czy Ray Charles.
W 2003 roku ukazał się już 60. album w bogatej dyskografii amerykańskiej wokalistki, aktorki i reżyserki. Płyta "The Movie Album" zawiera 12 najpiękniejszych piosenek filmowych z lat 1935-1988, wybranych przez samą artystkę, takich jak np. "Smile" Chaplina z filmu "Dzisiejsze czasy" (1936), "Moon River" Manciniego z filmu "Śniadanie u Tiffaniego" (1961), czy "Calling You" z filmu "Bagdad Café" (1988). Streisand jest również ich producentką, przy trzech z nich ("Moon River", "How Do You Keep The Music Playing?" i "Calling You"), współpracowała z Robbiem Buchananem, natomiast przy "Emily" pomagał jej legendarny kompozytor i aranżer Johnny Mandel. Wszystkie utwory nagrano przy akompaniamencie 75-osobowej orkiestry.
Aranżacjami zajęli się Johnny Mandel, Jeremy Lubbock, Jorge Calandrelli i Jay Landers. Każdy z utworów został opatrzony osobistymi adnotacjami Barbry, która cały album dedykuje "przyjacielowi Gregory'emu Peckowi, legendzie wielkiego ekranu, który w życiu codziennym prezentował tyle godności i człowieczeństwa, ile prezentował w swoich sławetnych rolach".
Specjalna, limitowana wersja "The Movie Album", zawiera dodatkowo DVD z wykonaniami na żywo utworów "I'm In The Mood For Love" i "Wild Is The Wind", jak również komentarze artystki do wszystkich utworów z płyty.
Notowania sprzedaży najlepiej odzwierciedla ilość zdobytych złotych i platynowych płyt. Do tej pory sprzedała więcej niż ktokolwiek z żyjących i tworzących artystów. 36 złotych płyt stawia ją na równi z The Rolling Stones, na trzeciej pozycji, za Presleyem i Beatlesami. Poza tym, 24 płyty osiągnęły status platyny, a 11 podwójnej platyny.
Barbra Streisand znana jest również z działalności charytatywnej. Poprzez fundację "Streisand Foundation" poważnie angażuje się w walkę o równouprawnienie kobiet, ochronę praw obywatelskich i prawa do wolności osobistej, pomoc dzieciom żyjącym w zagrożeniu ze strony społeczeństwa oraz ochronę środowiska. Jest inicjatorką zbierania funduszy na cele społeczne, w tym walkę z AIDS. Przez prawie 30 lat, prawie wszystkie jej występy były poświęcone ideom, które wspierała. Zaangażowanie społeczne artystki znalazło także oddźwięk w filmach. W 1992 roku Barbra została uhonorowana nagrodą "Commitment to Life" przyznaną przez AIDS Project Los Angeles oraz nagrodą Akt Prawny ACLU za stałą ochronę praw konstytucyjnych.
(Źródło: RMF FM)