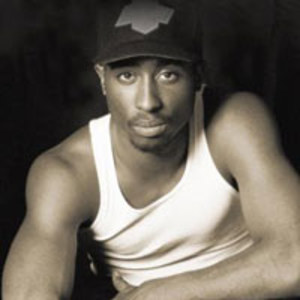 fot. Universal Music Polska
data urodzenia

16 czerwca 1971

data śmierci

13 września 1996

pochodzenie

USA

imię i nazwisko

Tupac Amaru Shakur
Biografia
Tupac Amaru Shakur urodził się w nowojorksim Brooklinie, w 1971 roku. Jego rodzice należeli do Czarnych Panter - organizacji stawiającej sobie za cel samoobronę czarnoskórej ludności w USA. Rodzice rozeszli się i matce, która go wychowywała, nie powodziło się najlepiej - przenosiła się z dziećmi z miasta do miasta. Pomimo tego 2Pac jako nastolatek chodził do prestiżowej Baltimore School of the Arts.
Jako 17-latek wraz z rodziną przeniósł się do Kalifornii, gdzie niebawem spotkał się z Shockiem-G, liderem Digital Underground. Wraz z tą formacją nagrał dwie płyty - "This Is an EP Release" i "Sons of the P". Jednak już w roku 1992 ukazał się jego solowy album "2Pacalypse Now". Dzięki singlowi "Brenda's Got a Baby", płyta zyskała status Złotej, jednocześnie wywołała oburzenie wielu polityków.
W 1993 ukazał się kolejny longplay 2Paca - "Strictly For My N.I.G.G.A.Z.". Płyta zawierała przebojowe utwory "I Get Around" i "Keep Ya Head Up". Szybko zyskała status Platynowej, a 2Pac otrzymał nominację do nagrody Grammy.
Pomimo sukcesów odnoszonych w show-biznesie, 2Pac miał poważne problemy z prawem już od 1992 roku, kiedy to został po raz pierwszy aresztowany. Do roku 1995 rywalizował ze Snoop Doggiem o tytuł najbardziej kontrowersyjnej postaci rapowego światka, spędzając tyle samo czasu za kratkami, co w studiu.
Kolejny album "Me Against the World" wydano 1995 roku, kiedy 2Pac odsiadywał karę w więzieniu. Płyta zadebiutowała na pierwszym miejscu zestawienia - tym samym 2Pac stał się pierwszym artystą, który święcił takie tryumfy w zakładzie karnym. W tym czasie Shakur wszedł w otwarty konflikt z raperami ze Wschodniego Wybrzeża - Notoriousem B.I.G., Puffym Combsem, Andre Harrellem i swoim przyjacielem Randym "Stretch" Walkerem.
Wiosną 1996 ukazała się płyta "All Eyez On Me" - był to pierwszy dwupłytowy box z oryginalnym materiałem w historii hip hopu. Wydawnictwo zadebiutowało na 1. miejscu zestawienia "Billboardu" i zawierało singel "California Love", nagrany z gościnnym z udziałem Dr. Dre.
2Pac Shakur nie doczekał premiery swojej następnej płyty. 13 września 1996 roku zmarł w wyniku ran odniesionych w strzelaninie w Las Vegas. Po jego śmierci ukazało się wiele wydawnictw prezentujących twórczość rapera, nie tylko muzyczną, ale i poetycką. Niektóre z nich to: "Don Killuminati: The 7 Day Theory" (1996), "R U Still Down? (Remember Me)" (1997), "Still I Rise" (1999), "Until the End of Time" (2001), "Better Dayz" (2002). W roku 2004 ukazał się album "Live", zawierający materiał zarejestrowany w 1996 roku.
Jesienią 2005 roku ukazała się druga część wydawnictwa, na którym znalazły się utwory wykonywane przez artystów z kręgu hip hopu, r'n'b i soulu, a zainspirowane poezją i książką "The Rose That Grew From Concrete", autorstwa 2Paca. Płyta tematycznie wyraźnie nawiązuje do części pierwszej "The Rose". Wśród artystów interpretujących twórczość 2Paca, usłyszeć można m.in. Ludacrisa, Lyfe Jennings, Bone Thugs-n-Harmony, Outlawz Immortalz, Memphis Bleek, Taliba Kweli czy też Shock G.
W czerwcu 2005 roku otwarte zostało centrum "Tupac Amaru Shakur Foundation's Peace Memorial Garden And Visitors Center" w Stone Mountain, w stanie Georgia. 2Pac Shakur przez swoją muzykę, teksty, styl życia, wyrażał frustracje i energię swojego pokolenia, był jego głosem.
(źródło: RMF FM)