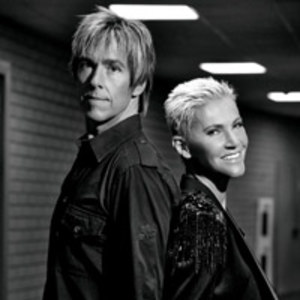 fot. EMI Music Poland
data powstania

1986

pochodzenie

Szwecja
Biografia
Szwedzki duet Roxette tworzą wokalistka Marie Fredriksson i kompozytor-gitarzysta Per Gessle. Muzycy spotkali się w późnych latach 70. w Halmstad. Ze względu na sukcesy jakie odnosili indywidualnie - Marie triumfowała jako wokalistka, a ówczesny zespół Pera - Gyllene Tider jest w dalszym ciągu cenioną formacją w Szwecji - zdecydowali się nie angażować we wspólne przedsięwzięcie muzyczne.
Ich kariera jako Roxette rozpoczęła się dopiero w 1986 roku od wydania singla "Neverending Love", a debiutancki album zatytułowany "Pearls Of Passion" zapowiadał narodziny nowego superduetu w Szwecji.
W 1988 roku zespół wydał drugi album "Look Sharp!" i wyruszył na szwedzkie tournee. Album okazał się ogromnym sukcesem w rodzimym kraju, ale początkowo na świecie przeszedł bez echa. Jednak niebawem szczęśliwy traf sprawił, że utwór "The Look" zrobił furorę w amerykańskich stacjach radiowych i tym samym sława Roxette nabrała rozmiarów międzynarodowych.
Dwa lata później ich utwór "It Must Have Been Love (Christmas For The Broken Hearted)", został przearanżowany (tym razem bez świątecznej oprawy) i w czerwcu 1990 jako trzeci singiel Roxette, wspiął się na 1. miejsce list przebojów. Singiel ten promował soundtrack do filmu "Pretty Woman", który sprzedał się w ilości 9 milionów egzemplarzy. Szacuje się, że do końca 2000 roku piosenka "It Must Have Been Love" została odtworzona 3 miliony razy, w samych tylko Stanach Zjednoczonych.
Koleje albumy Roxette - "Joyride" (1991), koncertowy "Tourism" (1992), "Crash! Boom! Bang!" (1994) ugruntowały tylko pozycję grupy na światowej scenie muzycznej. Niebawem, bo w 1995 roku, ukazała się płyta zawierająca największe hity zespołu - "Don't Bore Us - Get To The Chorus". Natomiast cztery lata później Roxette wydali kolejny album - "Have A Nice Day" (1999).
Grupa ma na koncie ponad 40 milionów sprzedanych albumów i 15 milionów singli. Zespół wylansował wiele hitów, między innymi "Listen To Your Heart", "Joyride", "Sleeping In My Car" i "It Must Have Been Love". Ich ostatnia płyta studyjna - "Room Service", ukazała się w kwietniu 2001 roku.
W roku 2002, Marie i Per przygotowali specjalną kolekcję swoich największych przebojów - "The Ballad Hits". Znalazły się tam między innymi takie utwory jak słynne "It Must Have Been Love", "Listen To Your Heart", "Fading Like A Flower" czy "Spending My Time". Płyta ukazała się w listopadzie 2002 roku.
Mimo choroby wokalistki, kolejny krążek, tym razem "The Pop Hits", na rynku pojawił się 24 marca 2003 roku. Album to kompilacja największych przebojów, tym razem wybranych spośród tak zwanych utworów "up tempo", czyli szybkich.
(Źródło: RMF FM)