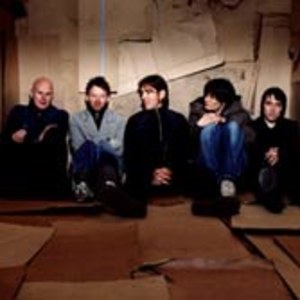 data powstania

1989

pochodzenie

Wielka Brytania
Biografia
Radiohead to zespół założony przez grupę studentów Oxfordu. W skład grupy wchodzą Thom Yorke (wokal, gitara), Ed O'Brien (gitara, wokal), Jonny Greenwood (gitara), Colin Greenwood (bas) i Phil Selway (perkusja). Radiohead na stałe wpisał się do kanonu światowej muzyki alternatywnej, a przez wielu jest uważany za jeden z najważniejszych zespołów historii rocka.
Radiohead - największy przebój zespołu
Członkowie Radiohead czerpali swoje inspiracje przede wszystkim z twórczości takich brytyjskich formacji jak Joy Division, The Fall czy The Smiths. Debiutancki album zespołu - "Pablo Honey" wydany w 1992 roku - mimo nikłej kampanii medialnej zyskał niezwykłą popularność i dostał się na amerykańskie listy przebojów. Z tej właśnie płyty pochodzi pierwszy przebój zespołu - "Creep". Neurotyczny głos Thoma Yorke'a w połączeniu z przejmującym i jednocześnie surowym brzmieniem gitary okazał się strzałem w dziesiątkę.
Po wydaniu w 1994 roku drugiej płyty, jaką była "The Bends", zespół zaczął koncertować razem z Alanis Morissette po drugiej stronie Oceanu, dzięki czemu zyskał sobie jeszcze większą popularność w Stanach Zjednoczonych. Pomogły w tym także przebojowe single, m.in. "High and Dry", czy "Just".
Następny krążek grupy "OK Computer" z 1997 pokazał zupełnie nowe oblicze Radiohead. Płyta jest fantastyczną syntezą wielu gatunków muzycznych, począwszy od ambientu i trip-hopu, poprzez gitarowe improwizacje, na psychodelii i elementach muzyki filmowej kończąc. Na szczególną uwagę zasługuje ponad sześciominutowy utwór "Paranoid Android", który przez długi czas gościł na szczytach brytyjskich list przebojów. Inne znakomite kompozycje z płyty to m.in. "Karma Police" i "No Surprises". Album otrzymał nagrodę Grammy jako najlepszy alternatywny krążek na świecie, a w wielu plebiscytach podsumowujących wydawnictwa lat 90. jest uznawany za czołowe rockowe dzieło dekady. Długa trasa koncertowa promująca "OK Computer" została uwieczniona filmem dokumentalnym "Meeting People Is Easy" autorstwa Granta Gee.

Radiohead "Kid A" - eksperymentalne oblicze
W 2000 roku ukazał się album "Kid A", który pokazał jeszcze mroczniejsze i eksperymentalne oblicze Radiohead. Krążek jest chłodny i miejscami niemal pozbawiony melodii. Fani i krytycy nie byli zgodni w odbiorze płyty - dla jednych stała się ona największym osiągnięciem zespołu, inni krytykowali tak nagły zwrot w muzyce.
Zaledwie rok później ukazała się kolejna płyta - "Amnesiac", która obracała się w podobnej stylistyce, co "Kid A", przynosząc jednocześnie więcej popularnych piosenek, m.in. "Knives Out", czy "Pyramid Song".
Z kolei na kolejnym krążku "Hail to the Thief" z 2003 roku kapela poruszyła dużo wątków politycznych, skupiając się na ostrej krytyce całej klasy politycznej, szczególnie w Stanach Zjednoczonych. Wpłynęło to później na duże kontrowersje i problemy wokół koncertów promujących tą płytę w USA. Album okazał się jednak kolejnym udanym dziełem zdobywając uznanie wśród fanów i krytyków muzycznych.
Następny album grupy, "In Rainbows", odchodził w dużej mierze od mocno eksperymentalnej stylistyki kilku poprzednich krążków. Zespół powrócił do bardziej "piosenkowej" formuły, pamiętając przy tym o pięknych melodiach. Singlami z płyty, a zarazem wyróżniającymi się kompozycjami są "Jigsaw Falling Into Place", "Nude", "Bodysnatchers" i "House Of Cards". Płyta ukazała się początkowo tylko w formie cyfrowej, a fani sami mogli zdecydować ile za nią zapłacą.
Ostatnia płyta zespołu, "The King Of Limbs", została udostępniona do zakupu 19 lutego 2011 roku, jak na razie, tylko w formie cyfrowej. Wydawnictwo w formie fizycznej ma trafić do sklepów 9 maja i zawierać będzie płytę CD, dwa 10-calowe winyle i plakaty.