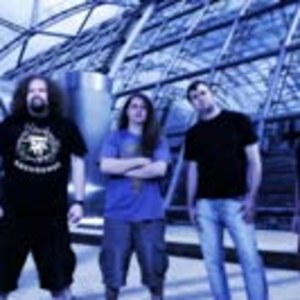 fot. Alex Jusseit
data powstania

1982

pochodzenie

Wielka Brytania
Biografia
Legenda grind core'a, brytyjska grupa Napalm Death, powstała na początku lat 80. Do dziś nie pozostał w jej składzie żaden z muzyków, którzy ją zakładali.
Pierwsze demo Napalm Death zostało nagrane w 1985 roku i nosiło tytuł "Hatred Surge". Dwa lata później ukazała się debiutancka płyta "Scum". W podobnym, grindcore'owym stylu utrzymana była również druga płyta, wydana w 1988 roku "From Enslavement To Obliteration".
Zmiana stylistyczna w kierunku deathmetalowym nastąpiła wraz ze zmianą wokalisty z Lee Doriana (później stworzył grupę Cathedral) na Marka "Barney'a" Greenway'a (z Benediction). Słychać ją na trzeciej płycie, "Harmony Corruption" (1990).
Do dziś Napalm Death łączy w swojej twórczości elementy grind i hard core'a z death metalem. Zespół trafił również do Księgi Rekordów Guinessa za najkrótszą piosenkę świata, "You Suffer", która trwa sekundę, a jej tekst składa się ze słów: "You suffer. But why?".
W 1999 roku ukazała się EP-ka "Leaders Not Followers", na której muzycy zaprezentowali utwory grup, które wywarły na nich największy wpływ, m.in. Death, Dead Kennedys, Repulsion, Raw Power i Pentagram. Później zespół wydał "Enemy Of The Music Business" (2000) i "Order Of The Leech" (2002).
Wkrótce po wydaniu tej ostatniej ukazało się DVD "Punishment In Capitals", zawierające m.in. koncert z Londynu z 12 kwietnia 2002 roku, a także fragmenty występów z Tokio (1996) i Santiago de Chile (1997).
Kolejne wydawnictwo to dwupłytowe "Noise For Music's Sake" (czerwiec 2003), składające się z albumu typu "best of" (ponad 30 utworów, 75 minut muzyki) oraz kolekcji nagrań rzadkich, niepublikowanych, demówek, wersji koncertowych i przeróbek ("Avalanche Master Song" Godflesh)
W sierpniu 2004 roku ukazała się druga część "Leaders Not Followers", na której członkowie Napalm Death ponownie oddali hołd grupom, które wywarły na nich największy wpływ. Wśród 19 utworów znalazły się tym razem kompozycje m.in. Kreatora, Sepultury, Agnostic Front, Hellhammer, Discharge i Massacre. W dwóch numerach można usłyszeć Jima Whitley'a, pierwszego basistę Napalm Death. "Leaders Not Followers 2" to pierwsze wydawnictwo grupy, które ukazało się nakładem wytwórni Century Media.
Kolejna studyjna płyta, zawierająca już autorski materiał zespołu, to "The Code Is Red - Long Live The Code" z kwietnia 2005 roku. Czternastą płytę grupy nagrano w Foel w Walii z producentem Russem Russellem, pracującym z Napalm Death przy dwóch ostatnich studyjnych albumach. Gościnnie zaśpiewali Jamey Jasta z Hatebreed ("Instruments Of Persuasion"), Jello Biafra z Dead Kennedys ("The Great And The Good") i Jeff Walker z Carcass ("Pledge Yourself To You").
Muzycy Napalm Death udzielają się chętnie w różnych projektach, m.in. Lock Up i Brujeria. Zespół występował w Polsce. Cieszy się wielkim szacunkiem wśród fanów i muzyków z kręgów ekstremalnego metalu i nie tylko.
Obecny skład Napalm Death to: Shane Embury (gitara basowa), Mark "Barney" Greenway (śpiew), Mitch Harris (gitara), Danny Herrera (perkusja) i Jesse Pintado (gitara).