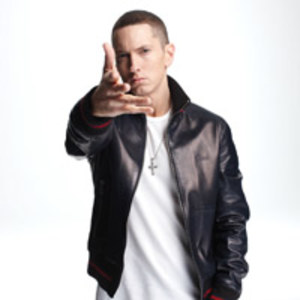 fot. Universal Music Polska
data urodzenia

17 października 1972

pochodzenie

USA

imię i nazwisko

Marshall Bruce Mathers III
Biografia
Eminem, czyli Marshall Bruce Mathers III, urodził się w 1972 roku w Kansas City, w stanie Missouri. Gdy miał 12 lat, przeniósł się wraz z matką do Detroit.
Pierwszym utworem hiphopowym, jaki usłyszał, był "Reckless" w wykonaniu Ice'a-T. Inni wykonawcy, których podziwiał, to Beastie Boys, LL Cool J, Run DMC i Redman. Sam rapować zaczął w wieku 14 lat.
W grudniu 1995 roku jego narzeczona Kim Scott, którą poznał jeszcze w szkole, urodziła córkę Hailie Jade Scott, choć ich ślub odbył się dopiero w 1999 roku (rozwiedli się dwa lata później).
Eminem zadebiutował w 1996 roku albumem "Infinite", wydanym przez malutką lokalną firmę FBT Productions. Album spotkał się z krytyką - raperowi zarzucano, że kopiuje Nasa i Jay'a-Z. Niezadowolony z pierwszego projektu, zaczął pracę nad kolejnym, pisanym właściwie dla samego siebie, który później - w 1998 roku - został wydany jako słynny już dzisiaj "The Slim Shady LP" (2. miejsce na liście Billboardu, 3 miliony sprzedanych egzemplarzy).
W 1997 roku na Olimpiadzie Muzyki Rap w Los Angeles, Eminem zajął drugie miejsce w konkurencji "freestyle". Tam odkrył go Dr. Dre i podpisał z nim kontrakt płytowy dla wytwórni Aftermath/Interscope.
Pierwszym owocem był album "The Slim Shady LP", wydany w lutym 1999 roku i promowany singlem "My Name Is..". Szybko znalazł on ponad 3 miliony nabywców i uhonorowany został dwoma nagrodami Grammy.
Na płycie znalazły się dość kontrowersyjne teksty, m.in. w utworze "97 Bonnie & Clyde", opowiadającym o zabijaniu Kim Mathers (żony Eminema), a także pełne gniewu ataki na jego matkę Debbie, która później domagała się od niego 12 milionów dolarów odszkodowania za zniesławienie.
Po sukcesie "Slim Shady LP", Eminem ruszył w trasę koncertową, grając między innymi z Beatnuts, Mixmaster Mike'm i Cypress Hill. Jego utwory znalazły się także na składankach: "This Or That", "Soundbombing 2" oraz soundtracku do filmu "Wild Wild West". Eminem został także zaproszony do udziału w projekcie Dr Dre Chronic 2001, gdzie rapował w dwóch utworach: "What's The Difference" i "Forgot About Dre".
Następnie przyszła kolej na drugi album dla wytwórni Interscope. Płyta "The Marshall Mathers LP", ukazała się w maju 2000 roku i wydana została w dwóch wersjach okładki. I tym razem Dr. Dre okazał się niezawodny jako producent. Już
w pierwszym tygodniu sprzedaży w USA płytę kupiło 1,7 miliona osób, a w dwa miesiące po premierze krążek przekroczył nakład 5 milionów egzemplarzy, stając się w ten sposób jedną z najszybciej sprzedających się płyt hiphopowych w historii.
W swoich tekstach Eminem jest wybitnie szczery - opisuje w nich wszystkie swoje przeżycia z minionego roku, łącznie z wrażeniami z przyznania mu nagród Grammy. Przy okazji obraził kogo tylko się dało.
W 2000 roku Eminem stał się mimowolnym sprawcą wielkiej kariery nieznanej szerzej angielskiej wokalistki Dido, gdy wykorzystał jej głos w swym wielkim przeboju "Stan", który w listopadzie dotarł do 1. miejsca listy przebojów w USA, a miesiąc później w Anglii.
W kwietniu 2001 r. Eminem został skazany na karę więzienia w zawieszeniu na dwa lata. Był to wynik przyznania się do nielegalnego posiadania broni, a w zamian prokurator odstąpił od oskarżenia o napaść z użyciem niebezpiecznego narzędzia.
Kolejny album rapera, zatytułowany "The Eminem Show", premierę miał w maju 2002 roku, a promował go singel "Without Me", do którego nakręcono dość kontrowersyjny teledysk - Eminem parodiuje m.in. Elvisa Presley'a i Osamę Bin Ladena. Producentem większości nagrań został sam Eminem, a prezentowany materiał ma bardziej rockowe brzmienie, w którym słychać inspiracje muzyką lat 70. (Aerosmith, Jimi Hendrix, Led Zeppelin).
Na płycie pojawiają się także Dr. Dre, raper Nate Dogg i Obie Trice, natomiast w kompozycji "My Dad's Gone Crazy" słychać głos córki Eminema - Hailie. Album zadebiutował na 1. miejscu po obu stronach Atlantyku i do końca roku sprzedano ponad 7 milionów egzemplarzy.
Eminem od dawna marzył o karierze aktorskiej, ale marzenie spełniło się dopiero w 2002 roku, gdy zagrał w filmie "8. mila", luźno opartym o wątki z jego życia. Film odniósł spory sukces (w USA w pierwszy weekend wyświetlania zarobił ponad 50 milionów dolarów!), a Eminem został wysoko oceniony przez krytyków, którzy chwali jego naturalność i wysoki kunszt aktorki.
Na ścieżce dźwiękowej znalazły się trzy premierowe utwory rapera, w tym "Lose Yourself", który w USA znalazł się na pierwszym miejscu listy "Billboardu", stał się też sporym przebojem w Europie. W marcu 2004 roku Eminem za ten właśnie utwór odebrał filmowego Oscara.
Na początku 2003 roku czytelnicy amerykańskiego magazynu muzycznego "Spin" uznali Eminema za "najważniejszego artystę współczesnego rynku fonograficznego". W tym czasie pracował on równocześnie nad trzema projektami - albumami raperów nagrywających dla jego wytwórni Shady Records, Obiego Trice'a i grupy D12, oraz swą kolejną płytą. W grudniu ukazał się natomiast box "Eminem - The Singles", zawierający 10 wydanych wcześniej singli rapera i jeden nowy utwór.
Fani z niecierpliwością czekali jednak na kolejny album z premierowym materiałem. Płyta "Encore" ukazała się w listopadzie 2004 roku, a na pierwszym singlu wydano piosenkę "Just Lose It", w której Eminem nabija się m.in. z Michaela Jacksona, co dobitnie pokazał teledysk - raper przebrany jest w nim za Króla Popu, któremu przydarza się wiele nieszczęśliwych "wypadków": odpada mu nos, płonące włosy gasi w muszli klozetowej, a "prawdziwy" Eminem dodatkowo na niego wymiotuje.
Na płycie Eminema wspomagali m.in. 50 Cent, Natte Dog, Obie Trice, Stat Quo oraz skład D-12, a całość jak zwykle wyprodukował Dr Dre. W ciągu pierwszych trzech dni sprzedaży w USA, album kupiło ponad 700 tys. osób, a po dwóch tygodniach zanotowano wynik 1,6 mln egzemplarzy!
W grudniu 2005 roku ukazała się składankowa płyta "Curtain Call: The Hits" podsumowująca dotychczasową twórczość rapera, jednak oprócz jego największych przebojów na płycie znalazły się także 4 nowe utwory. Album odniósł ogromny sukces - zyskał status podwójnej platyny w USA, potrójnej - w Wielkiej Brytanii, Australii i poczwórnej - w Nowej Zelandii czy nawet siedmiokrotnej platyny w Irlandii. W specjalnej edycji ukazał się także z dodatkową płytą CD - "Stan's Mixetape", zawierającą 7 wybranych utworów, które nie znalazły się na głównym albumie. Pochodzący z "Curtain Call: The Hits" nowy singiel "Fuck", stanowi subtelną aluzję do animowanego serialu "Southpark", poprzez zastąpienie wyrazu "fuck" słowem "fack", jak robi to jeden z bohaterów kreskówki, Eric Cartman.
W 2006 roku ukazał się "Eminem Presents: The Re-Up", na którym wystąpili raperzy powiązani z wytwórnią Eminema, Shady Records: Stat Quo, Ca$his, oraz Bobby Creekwater. Pierwszym utworem z płyty, któremu udało się donieść sukces był "You Don't Know" nagrany we współpracy z 50 Centem, Ca$hisem i Lloydem Banksem. Początkowo album miał być ulicznym mixetape'em, mającym pomóc wypromować młodszych i mniej doświadczonych podopiecznych rapera. Jednak materiał okazał się tak dobry, że zebrane utwory zdecydowano się wydać całościowo - jako album.
Szósty solowy album studyjny Eminema, "Relapse", ukazał się jednak dopiero w maju 2009 roku. Raper zaprosił do współpracy przy nim tak uznanych wykonawców jak: Cashis, LL Cool J, Dr. Dre, Stat Quo, 50 Cent, Sha Money XL czy DJ Premier, The Alchemist i Obie Trice. Teledysk do premierowego singla "We Made You" został nakręcony przy udziale Dr. Dre, 50 Centa oraz gwiazdy filmów pornograficznych Lisy Ann. W piosence raper wyśmiewa idoli amerykańskich nastolatków: Britney Spears, Lindsay Lohan, Jessikę Simpson, Kim Kardashian czy Amy Winehouse. Drugi teledysk z płyty nakręcono do utworu "3 a.m.", w którym raper wciela się w postać psychopatycznego mordercy, szczegółowo opisującego jak zabija swoje ofiary. "Relapse" podobnie jak poprzednie płyty rapera, także odniósł spodziewany sukces - tylko do czerwca 2010 roku sprzedał się w nakładzie 3 mln egzemplarzy, a singel "Crack a bot tle" nagrany we współpracy z 50 Centem i Dr Dre został wyróżniony w kategorii Best Rap Album na 52 ceremonii rozdania nagród Grammy. Dodatkowo pod koniec grudnia 2009 roku ukazała się reedycja "Relapse", do której dołączono drugi krążek zawierający 7 dodatkowych utworów.
Wprawdzie Eminem zapowiadał, że kolejnym wydawnictwem w jego dorobku będzie "Relapse 2", jednak zdecydował się wydać album zatytułowany "Recovery" (premiera czerwiec 2010 r.). Raper uznał, że obie płyty zbytnio różnią się od siebie - według Ema "Recovery" jest bardziej introspektywny i emocjonalny niż poprzednik. Album od razu zadebiutował na pierwszej pozycji Billboard 200, z wynikiem 741 tys. sprzedanych egzemplarzy w ciągu zaledwie jednego tygodnia. Do tego sukcesu z pewnością przyczynił się wkład popularnych i cenionych muzyków, których Eminem zaprosił do współpracy. Znaleźli się wśród nich, często goszczący na płytach rapera: Dr. Dre, 50 Cent, ale także piosenkarki Pink i Rihanna, z którymi udało się stworzyć interesujące, oryginalne duety. Premierowy singel "Not Afraid" miejsca znalazł się w czołówce listy Billboard 200, stając się szóstą w historii listy piosenką (i drugą z gatunku rap), która debiutowała od razu na pierwszym miejscu. Drugi singel "Love The Way You Are", nagrany z Rihanną, również osiągnął ogromny sukces, a klip do niego (z udziałem Megan Fox), pobił rekordy oglądalności na serwisie YouTube (ponad 44 miliony odtworzeń w ciągu około dwóch tygodni od premiery).
14 czerwca 2011 Eminem wraz z Royce da 5'9", jako duet Bad Meets Evil, wydali mini album "Hell: The Sequel". W jednym z promujących go singli - "Lighters" gościnnie wystąpił Bruno Mars.
Grudzień 2011 roku przyniósł kolejną EP-kę - "The Straight From The Vault", zawierającą niepublikowane dotąd utwory Eminema.
W 2012 roku Eminem gościnnie pojawił w utworach: Rihanny - "Numb", Slaughterhouse - "Juggernauts", "Our House", "Throw That", "Asylum", Pink - "Here Comes the Weekend" oraz Skylar Grey - "C'mon Let Me Ride".
14 sierpnia 2013 opublikowano singiel "Survival", który znalazł się w trailerze multiplayera gry "Call of Duty: Ghosts".
9 września 2013 r. w sieci pojawił się teledysk do utworu "Berzerk" zapowiadającego ósmy album studyjny Eminema - "The Marshall Mathers LP 2", którego premierę zapowiedziano na 5 listopada .