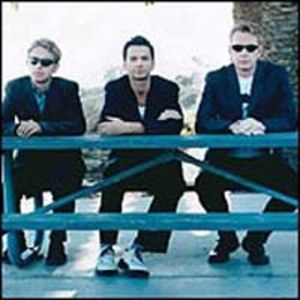 data powstania

1980

pochodzenie

Wielka Brytania
Biografia
Niewiele było w historii muzyki popularnej zespołów tak odległych od jej głównego nurtu, a jednocześnie mających na nią tak ogromny wpływ. Chociaż Depeche Mode nigdy nie cieszyli się zasłużoną sławą, ich muzyka miała ogromny wpływ na kulturę pop. Zawsze kroczyli własną drogą, zawsze byli outsiderami, niezależnie od ilości sprzedanych płyt.
Zespół, pochodzący z niewielkiego miasteczka Basildon, w hrabstwie Essex, został założony w 1980 roku przez Vince'a Clarke'a, Andrew Fletchera, Dave'a Gahana i Martina Gore'a. Pierwsza nazwa - Composition Of Sound - szybko zastąpiona została szyldem Depeche Mode, zapożyczonym od francuskiego magazynu o nowinkach ze świata mody. Był to chyba jedyny czas, w którym Depeche Mode można postrzegać jako część szerszego muzycznego trendu. Chłopaki z Essex, porzucając gitary na rzecz elektroniki, dołączyli do klubowego, post-punkowego ruchu, który opanował wówczas Wielką Brytanię.
Jeszcze w tym samym roku, poznali producenta Daniela Millera, założyciela i właściciela wytwórni Mute. Miller bez chwili wahania zaproponował im nagranie singla. Debiut grupy w barwach Mute to wydany w marcu 1981 roku utwór "Dreaming Of Me". Już trzy miesiące później jego następca zatytułowany "New Life" dotarł do miejsca 11., a następny "Just Can't Get Enough", został pierwszym singel w dyskografii Depeche Mode, który dotarł do pierwszej dziesiątki. Jesienią 1981 roku na półki sklepowe trafił debiutancki album zespołu, zatytułowany "Speak And Spell". Przez 33. tygodnie utrzymał się w zestawieniu najpopularniejszych płyt na Wyspach, docierając nawet do pierwszej dziesiątki.
Depeche Mode koncertowali wówczas bardzo intensywnie, co doprowadziło do pierwszego poważnego kryzysu. Vince Clarke, autor większości materiału, tuż po ukazaniu się "Speak And Spell" opuścił kolegów, poświęcając się duetowi Yazoo, który założył z Alison Moyet. Na pozycję głównego autora muzyki awansował w zespole Martin Gore. Przez następne dwie dekady Gore wielokrotnie udowadniał, że jest jednym z największych kompozytorów swojego pokolenia. Tymczasem miejsce Clarke'a zajął Alan Wilder, zamykając formowanie składu, który w nienaruszonej postaci miał przetrwać następnych 13 lat.
Drugi album "A Broken Frame" ukazał się w październiku 1982 roku. Płyta dotarła do pierwszej dziesiątki najlepiej sprzedających się albumów na Wyspach, co ugruntowało pozycję zespołu jako gwiazdy muzyki pop. Kolejnym kamieniem milowym w historii Depeche Mode był ich trzeci album "Construction Time Again", który ujrzał światło dzienne jesienią 1983 roku. Wtedy po raz pierwszy pojawiła się dychotomia pomiędzy przesłaniem tekstowym, a zawartością muzyczną płyty. Gore napisał głębsze i bardziej przemyślane teksty, często nadspodziewanie mroczne, jak na muzykę, którą właściwie można zatańczyć.
Na swój pierwszy znaczący sukces na rynku amerykańskim Depeche Mode musieli czekać do 1984 roku, kiedy tytułowy singel z albumu "People Are People", dotarł do miejsca 13. w notowaniu tygodnika "Billboard". Pozycja 51. płyty "Some Great Reward" na liście najlepiej sprzedających się w Stanach albumów udowodniła, że nie był to przypadek i Depeche Mode stanęli u progu prawdziwej, międzynarodowej kariery.
Kolejna wielka zmiana nadeszła w latach 1987 i 1988, kiedy zespół osiągnął status międzynarodowej gwiazdy. W październiku 1987 roku ukazał się album "Music For The Masses". Chociaż w USA osiągnął zaledwie 35. miejsce, przygotował grunt pod wspaniale przyjętą trasę koncertową. Depeche Mode znowu przetarli szlaki dla innych grup wykonujących muzykę alternatywną.
W 1989 roku Depeche Mode wydali album "Personal Jesus". W tym samym roku świat zobaczył również gigantyczną trasę "World Violation", rozpoczętą w Ameryce, a zakończoną trzema koncertami w Wembley Arena w Londynie. W 1990 roku ukazał się album "Violator", podsumowanie dziesięcioletniej kariery zespołu. Płyta wspięła się na 2. miejsce brytyjskiej i niemieckiej listy przebojów, a w USA dotarła do pozycji 7. listy "Billboardu". W ciągu rok "Violator" znalazł 6 milionów nabywców na całym świecie.
Następny materiał Depeche Mode, wydany w 1993 roku "Songs Of Faith & Devotion" nosił w sobie piętno tego, co działo się w muzyce na początku lat 90. w Stanach - słychać tam surowość rocka w takim samym stopniu, w jakim wczesne nagrania nosiły piętno punkowej rewolty. Trwająca 14 miesięcy trasa koncertowa "Devotional", okazała się dla zespołu prawie zabójcza. Do jej smutnych konsekwencji należy zaliczyć odejście Alana Wildera i poważny kryzys emocjonalny, z którym musieli uporać się pozostali członkowie zespołu.
Po trzech latach rozpoczęły się pierwsze próby reaktywowania grupy, pod opieką Tima Simenona. Zespół, który niegdyś świadomie porzucił rockowe instrumentarium, tym razem skorzystał z pomocy takich utytułowanych i utalentowanych przyjaciół jak Jaki Liebziet, Doug Wimbish i B.J. Cole. Świat poznał efekty ich współpracy w 1997 roku.
Triumfalny powrót Depeche Mode nastąpił, gdy singel "Barrel Of A Gun" zadebiutował na 4. miejscu brytyjskiej listy przebojów. Następny - "It's No Good" - doszedł w Wielkiej Brytanii do miejsca 5. a innych krajach radził sobie jeszcze lepiej. Jesienią 1998 roku zespół ruszył na pierwszą od czterech lat trasę koncertową, która promowała nie tylko album "Ultra", ale również kompilację "The Singles 1986-98".
(Źródło: RMF FM)