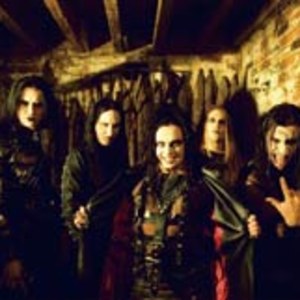 data powstania

1991

pochodzenie

Wielka Brytania
Biografia
"Wampiry z Suffolk", jak określa się powstały w 1991 roku brytyjski zespół Cradle Of Filth, to jeden z głównych (obok Dimmu Borgir) przedstawicieli tzw. symfonicznego black metalu, choć nie brakuje takich, którzy obruszają się, gdy grupę pakuje się do przegródki z napisem "black metal".
Na przestrzeni kilkunastu lat Cradle Of Filth stał się znaczącym zespołem na metalowej scenie i pierwszą grupą blackmetalową, która sprzedała ponad milion egzemplarzy jednego tytułu ("Midian" z 2000 roku).
Od samego początku główną postacią w zespole jest wokalista Daniel Lloyd Davey, który na płytach figuruje jako Dani Filth. On jest odpowiedzialny za teksty, jak również za stworzenie wampirycznego image'u Cradle Of Filth.
W 1994 roku ukazała się debiutancka płyta "The Principle Of Evil Made Flesh". Na fali wznoszącej Cradle Of Filth znalazł się po wydaniu albumu "Dusk And Her Embrace" (1996) oraz kolejnych - "Cruelty And The Beast" (1998) i wspomnianego już "Midian".
Cradle Of Filth jest pierwszą grupą blackmetalową, która podpisała kontrakt z wielkim koncernem płytowym - Sony Music. Współpraca zakończyła się jednak na wydaniu jednej płyty - "Damnation And A Day" (2003).
W 2004 roku, już nakładem Roadrunner Records, ukazało się kolejne wydawnictwo Cradle Of Filth, zatytułowane "Nymphetamine".
Warto wspomnieć, że Dani pojawił się w horrorze "Cradle Of Fear", a w klipie do utworu "Her Ghost In The Fog" wystąpił Doug Bradley, czyli Pinhead z kultowego horroru "Hellraiser".
16 października 2006 r. premierę miała siódma płyta zatytułowana "Thornography". Zespół nagrywał ją w studiu
Chapel w Lincolnshire, pod okiem producenta Roba Caggiano (Bleeding Through, Anthrax). Miksami zajął się ceniony fachowiec Andy Sneap (m.in. Machine Head, Opeth, Megadeth, Exodus, Napalm Death, Testament, Kreator, Arch Enemy). W utworze "The Byronic Man" gościnnie zaśpiewał Ville Valo z fińskiej heartmetalowej grupy H.I.M. Z kolei w zamykającym płytę singlowym "Temptation", przeróbce nagrania synthpopowej grupy Heaven 17, można usłyszeć kobiecy głos Dirty Harry.
Obecny skład Cradle Of Filth to: Paul Allender (gitara, eks-Blood Divine i Primary Slave), Dani Filth (wokale), Adrian Erlandsson (perkusja, eks-The Haunted), James Mckillboy (gitara), Martin Powell (klawisze, eks-My Dying Bride i Anathema) i Dave Pybus (gitara basowa).
W połowie listopada 2006 roku ogłoszono, że Adrian Erlandsson rozstał się z zespołem. Oficjalnie podano, że szwedzki perkusista postanowił skupić się na swoich projektach Needleye i Nemhain (z żoną Morrigan Hel). Następcą Erlandssona został 25-letni czeski muzyk Marthus (naprawdę Martin Škaroupka). Ma on na koncie grę w takich zespołach jak Galactic Industry i Inner Fear. Już z nim w składzie "Kredki" wystąpiły 8 grudnia 2006 roku w warszawskiej "Progresji".