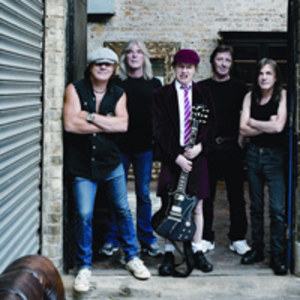 fot. Sony BMG
data powstania

1973

pochodzenie

Australia
Biografia
Australijski zespół założony w 1973 roku w Sydney przez braci Angusa i Malcolma Youngów. Grupa uznawana za jednego z pionierów muzyki hardrockowej i heavymetalowej, choć sami członkowie grupy zawsze klasyfikowali swoją muzykę jako "rock & roll".
Inspiracją dla nazwy formacji stał się tył maszyny do szycia siostry braci Youngów - Margaret, na którym zauważono akronim "AC / DC" oznaczający "alternating current / direct current" (urządzenie zdolne do pracy z oboma typami prądów). Uznano, że świetnie oddaje surową energię zespołu i postanowiono nie szukać nowej.
W 1973 roku zagrali swój pierwszy koncert w Sydney, a następnie podpisali kontakt z Albert Production. W tym czasie Angus Young przyjął charakterystyczny dla siebie image sceniczny - szkolny mundurek, który zaproponowała mu siostra muzyka.
Pierwszy wokalista - Dave Evans - za bardzo wizerunkowo zbliżał się do glam rockowców i w 1974 roku został zastąpiony przez Ronalda Belforda "Bona" Scotta. Z Evansem nagrano tylko jeden singel - "Can I Sit Next to You Girl", który później zarejestrowano ponownie z nowym wokalistą. W tym samym okresie AC/DC nagrali swój debiutancki album "High Voltage" (wydany w 1975 roku jedynie w Australii i Nowej Zelandii). Równocześnie do zespołu dołączyli - perkusista Phil Rudd i basista Mark Evans. Niedługo potem wydali jeden z najpopularniejszych swoich singli "It's a Long Way to the Top (If You Wanna Rock 'n' Roll)" - późniejszy rockowy hymn grupy.
Druga połowa lat 70. to konsekwentne pasmo sukcesów - w 1976 roku zespół podpisał międzynarodowy kontrakt z Atlantic Records. Równocześnie dużo koncertowali, głównie jako support przed Aerosmith, Blue Öyster Cult czy Kiss. Pierwszym albumem w nowej wytwórni była kompilacja dotychczasowych dwóch płyt pod nazwą "High Voltage", potem "Dirty Deeds Done Dirt Cheap" (1976) i "Let There Be Rock" (1977) - pierwszy krążek, który wszedł do amerykańskiego i brytyjskiego zestawienia płytowego. Po jego wydaniu Marc Evans został zwolniony, a zastąpił go Cliff Williams. W nowym składzie AC/DC wydali w 1978 roku "Powerage", a w rok później - "Highway to Hell" (1979) - tytułowy singel osiągnął złoty status za sprzedaż 500 000 kopii. Cieniem na sukces krążka położyła się nieoczekiwana śmierć wokalisty w do dziś nie wyjaśnionych okolicznościach. Znaleziono go nieprzytomnego 19 lutego 1980 roku w samochodzie znajomego i mimo szybkiej akcji reanimacyjnej nie zdołano uratować. W oficjalnym komunikacie podano, że Bon Scott udławił się własnymi wymiocinami po imprezie suto zakrapianej alkoholem.
Grupa stanęła przed groźbą rozwiązania działalności. Udało się ją zażegnać poprzez zaangażowanie nowego wokalisty - Briana Johnsona. W tym samym roku zespół nagrał swój najlepiej sprzedający się album - "Back in Black". Kolejna dekada, mimo przejściowych problemów, zapowiadała się więc znakomicie.
Wydany w 1981 roku longplay "For Those About to Rock We Salute You" zebrał dobre recenzje i nieźle się sprzedawał. W zespole narastał jednak konflikt między perkusistą Philem Ruddem a gitarzystą Malcolmem Youngiem, czego efektem była bójka obu panów i usunięcie bębniarza z formacji. Z powodu niedopracowanych linii melodycznych oraz braku profesjonalnego producenta kolejny krążek "Flick of the Switch" był komercyjnym rozczarowaniem. W 1984 roku, wg czytelników magazynu "Kerrang!" uznani zostali za największe rozczarowanie roku. Kolejny album "Fly on the Wall" (1985) nazwano wtórnym i pozbawionym inwencji. Dodatkowo niechętni muzykom rodzice nastoletnich fanów zażądali zakazu występowania oraz sprzedawania płyt zespołu. A wszystko za sprawą seryjnego mordercy Richarda Ramireza, który jako fan grupy - na miejscu jednej ze swych zbrodni zostawił czapkę z logiem AC/DC, zaś w momencie aresztowania miał na sobie koszulkę zespołu. Mimo tych przeciwności - w 1986 roku grupa wydała "Who Made Who" - ścieżkę dźwiękową do filmu "Maksymalne przyspieszenie" z pierwszymi w historii grupy utworami instrumentalnymi - "D.T." i "Chase the Ace".
W 1988 roku trafili do australijskiej Galerii Sław.
W 1989 roku ukazał się "Blow Up Your Video", pierwszy od dawna nagrany z oryginalnymi producentami zespołu, który krytykowany z jednej strony - przyniósł z drugiej - tak potrzebny grupie sukces komercyjny. Rozpoczęło się tournee, podczas którego Malcolm Young przyznał się wreszcie do alkoholizmu i trafił na leczenie, a jego miejsce tymczasowo zajął jego bratanek, Stevie. Po zakończeniu trasy - z AC/DC odszedł perkusista - Simon Wright, by pracować z Dio, a jego miejsce zajął Chris Slade. Nagrany w 1990 roku "The Razor's Edge" wyprodukował Bruce Fairbairn (znany ze współpracy z Aerosmith i Bon Jovi). Z albumu pochodzą należące już do klasyki gatunku - "Thunderstuck" i "Are You Ready", a zarejestrowane występy podczas trasy koncertowej wydano pod nazwą "AC/DC Live" (uznany jednym z najlepszych koncertów metalowych lat 90.) W 1991 roku nagrali "Big Gun" do filmu "Bohater ostatniej akcji" (pierwszy utwór, który obronił szczyt amerykańskiego zestawienia rockowych singli).
W 1994 roku ponownie do zespołu wrócił były perkusista Phil Rudd, a Chris Slade zgodził się na honorowe odejście. W rok później wydano w klasycznym składzie z początku lat. 80. album "Ballbreaker", a w 1997 roku kompilację "Bonfire", zawierającą nie publikowane wcześniej dema i nie wydane dotychczas krążki - "Volts" oraz "Live from the Atlantic Studios" i "Let There Be Rock: The Movie".
W 2000 roku zespół nagrał czternasty album studyjny - "Stiff Upper Lip" - przez krytyków oceniony jako lepszy od poprzedniego, choć bez nowych pomysłów kompozycyjnych. W tym samym roku grupa podpisała długoletni kontrakt z Sony Music, czego jednym z pierwszych efektów było wydanie wszystkich dotychczasowych longplayów w wersji zremasterowanej. W 2003 roku formacja zagrała koncert na lotnisku w Toronto (między innymi z Rolling Stones i Rush), na rzecz miasta po epidemii wirusa SARS. W tym samym roku zostali wprowadzeni do Rock and Roll Hall of Fame.
W 2004 roku Aleja Korporacyjna w Melbourne zmieniła nazwę na "AC/DC Lane", gdzie litery połączono w całość, a piorun umieszczono w tle. W 2007 roku zespół uplasował się na piątym miejscu w USA pod względem sprzedaży płyt za The Beatles, Led Zeppelin, The Eagles i Pink Floyd.
20 października 2008 roku wydano nowy album "Black Ice", którego promowano singlem "Rock n' Roll Train". Płyta zawiera 15 kompozycji wyprodukowanych przez słynnego Brendana O'Briena (m.in. Pearl Jam, Rage Against The Machine, Bruce Springsteen). Materiał zmiksowany został przez Mike'a Frasera (Metallica, Aerosmith, Joe Satriani). Płyta okazała się sukcesem komercyjnym i artystycznym - krytycy wysoko ocenili "Black Ice", a bilety na koncerty rozchodziły się jak ciepłe bułeczki.