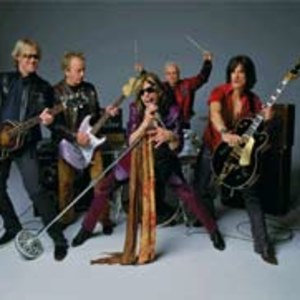 data powstania

1969

pochodzenie

USA
Biografia
Trudno dokładnie powiedzieć, w którym roku powstała grupa Aerosmith. Czy był to rok 1964, kiedy to Steven Tallarico zakłada zespół The Strangeurs (późniejsze Chain Reaction), w którym gra na perkusji, czy też rok 1969, kiedy ta grupa łączy się z drugą - Jam Band - i przyjmuje nazwę Aerosmith.
Tyler tak wspomina tamte czasy: Było nas sześciu w grupie, kilku z nas mieszkało w kuchni, jedliśmy brązowy ryż i zupy Cambell's. W tamtych dniach, wiecie, kiedy kwarta piwa była niebem. To były ciężkie czasy i były naprawdę dobre...
Ale bywało też gorzej - kiedy zespół dostawał 300 dolarów za występ i muzycy kradli jedzenie w sklepach...
Rok 1972 to właściwie początek kariery. Steven zmienia nazwisko z Tallarico na Tyler.
Grupa podpisuje kontrakt z wytwórnią płytową na 125 tysięcy dolarów. W dwa tygodnie zostaje nagrany i zmiksowany ich pierwszy album - "Aerosmith". Zespół rusza w trasę promującą LP i odnosi wielki sukces - płyty sprzedają się jak ciepłe bułeczki, kolejne single wspinają się na listy przebojów. Kolejnych kilka lat to koncerty, okładki magazynów, zdobywane szturmem listy przebojów. "Byliśmy zespołem Ameryki, byliśmy zespołem z garażu który zrobił coś wielkiego. Byliśmy chłopakami, ktorych można było po prostu zobaczyć. Dawniej, w latach siedemdziesiątych, kiedy Led Zeppelin był na topie - oni nie jeździli po całej Ameryce ze swoim show. Stonesi też niekoniecznie przyjeżdzali do twojego miasta. A my byliśmy. Przyjeżdżaliśmy. Można było liczyć na nas - że na pewno przyjedziemy" wspominają muzycy.
W 1977 roku grali już na Dalekim Wschodzie i nagrali platynową płytę "Draw the Line", a rok później wpłacili ponad 3 i pół tysiąca dolarów kaucji za uwolnienie 52 fanów, którzy złamali przepis niepalenia podczas koncertu w Fort Wayne.
Nie brak w tym czasie - jak chyba w każdym zespole - napięć, kłótni, pożegnań i powrotów. Wychodzą z nich obronną ręką, na co dowodem są kolejne nagrody - w 1988 roku po raz pierwszy nagradza ich MTV - w kategorii "Best Group Video" i "Best Stage Performance in a Video" - oba za piosenke "Dude Looks Like A Lady". W 1994 występują na koncercie w Polsce.
Przełom lat 80. i 90. to wielkie sukcesy grupy - płyty "Permanent Vacation" (1987), "Pump" (1989) i "Get A Grip" (1993) cieszą się ogromnym powodzeniem.
W XXI wiek zespół wszedł płytą "Just Push Play", która ukazała się w marcu 2001 r. Album od razu wylądował na 2. miejscu amerykańskiej listy przebojów. Miesiąc później jest już Platynową płytą.
To pierwszy album Aerosmith wyprodukowany przez członków zespołu - Stevena Tylera i Joe Perry'ego. Przeplatają się na nim popowe przeboje i ostre rockowe riffy - znak rozpoznawczy Aerosmith.
Rok później w krótkim odstępie czasu pojawiają się dwie składanki "Young Lust: The Aerosmith Anthology" i "The Ultimate Hits". Z kolei w marcu 2004 roku ukazała się kolejna płyta w dorobku grupy - "Honkin' on Bobo". Jednak zawsze muzyków przy tworzeniu materiału inspirował blues, aż wreszcie postanowili nagrać płytę w całości bluesową. Wśród 12 kompozycji na krążku znalazła się tylko jedna piosenka autorstwa Aerosmith, "The Grind". Reszta to bluesowe klasyki w interpretacji kwintetu z Bostonu.
Jesienią 2005 roku zespół zaprezentował album "Rockin' The Joint (Live At The Hard Rock)" - zapis koncertu z klubu "The Joint", w Hard Rock Hotel w Las Vegas, ze stycznia 2002 roku. Podobno był to najlepszy występ Aerosmith podczas trasy "Just Push Play", dlatego grupa postanowiła wydać go na płycie. Na krążku znalazło się 11 utworów ze wszystkich okresów ponad 30-letniej kariery amerykańskich rockmanów. Najstarsze, jak "Seasons Of Wither", pochodzą z 1974 roku, a najmłodsze z 2001 ("Light Inside").
(Źródło: RMF FM, uzupełnienia własne)