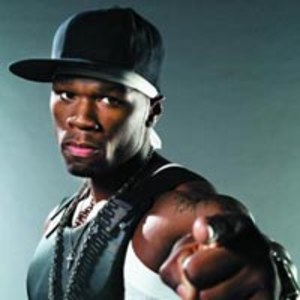 fot. Universal Music Polska
data urodzenia

6 lipca 1976

pochodzenie

USA

imię i nazwisko

Curtis Jackson
Biografia
Amerykański raper 50 Cent naprawdę nazywa się Curtis James Jackson III i urodził się 6 lipca 1976 roku w Nowym Yorku. Wypromowany przez wytwórnię Eminema i Dr. Dre, sprzedał ponad 20 milionów płyt na całym świecie.
Curtis był wychowywany przez samotną matkę, handlującą heroiną. Wkrótce sam poszedł w jej ślady i w wieku 12 lat zaczął sprzedawać narkotyki. W 1994 roku w wyniku udanej prowokacji został aresztowany, a niedługo potem policja w jego domu znalazła heroinę, 10 uncji cracku i pistolet. Curtis został skazany na 3 lata więzienia, lecz ostatecznie udało mu się uzyskać warunkowe zwolnienie. Wtedy też zaczął używać pseudonimu 50 Cent, który postanowił przejąć po znanym w latach 80. na Brooklynie włamywaczu, Kelvinie Martinie.
Pierwsza wizyta 50 Centa w studiu nagraniowym miała miejsce w 1996 roku, kiedy początkujący raper poznał Jama Mastera Jaya z Run-DMC - swojego przyszłego nauczyciela. Dwa lata później Curtis debiutował w piosence grupy Onyx zatytułowanej "React". Jay produkował później pierwszy album 50 Centa, jednak krążek nigdy się nie ukazał.
Współpracując z duetem Trackmasters, w 1999 roku raper przeniósł się do wytwórni Columbia Records, gdzie pracował nad swoim debiutanckim albumem "Power of the Dollar". Niedługo potem został postrzelony, a wytwórnia zerwała z nim kontakty, nie chcąc mieć do czynienia z gangsterem.
Curtis jednak nie dawał za wygraną. W ciągu następnych dwóch lat, wraz z Lloydem Banksem i Tonym Yayo, stworzył formację G-Unit. Wydał też w 2002 roku solową płytę "Guess Who's Back", dzięki której zainteresowali się nim Eminem i Dr. Dre, którzy zaprosili 50 Centa do współpracy, a później pomogli wyprodukować album "Get Rich or Die Tryin'". Płyta okazała się kasowym hitem dzięki takim przebojom jak "In da Club" czy "The Source".
Po tym sukcesie raperowi zaproponowano stworzenie własnej wytwórni, nazwanej później G-Unit Records, która wypromowała takich raperów jak Young Black, Lloyd Banks i Tony Yayo.
W 2005 roku 50 Cent powrócił z albumem "The Massacre", sprzedanym w liczbie ponad miliona egzemplarzy w ciągu pierwszych 4 dni. Raper został pierwszym solowym artystą, którego aż 3 utwory - "Candy Shop", "Disco Inferno" oraz "How We Do" - znalazły się jednocześnie na liście 5 najpopularniejszych piosenek Billboardu. W tym samym roku na ekrany wszedł film częściowo inspirowany biografią Curtisa - "Get Rich or Die Tryin'".
Rok 2007 to album "Curtis", na którym 50 Cent wiele miejsca poświecił swojej "przestępczej" przeszłości. Płyta w pierwszym tygodniu rozeszła się w liczbie prawie 700 tysięcy egzemplarzy, dzięki czemu zadebiutowała na 2. miejscu listy Billboard 200. Na krążku znalazły się takie hity jak "I Get Money" czy "Ayo Technology" z gościnnym udziałem Justina Timberlake'a i Timbalanda.
W tym samym roku magazyn "Forbes" ogłosił listę najbogatszych przedstawicieli muzyki rap. 50 Cent zajął na niej drugą pozycję, ustępując tylko Jay Z. Raper zdobył także dziesiątki nagród, między innymi w 2005 roku został ogłoszony artystą roku przez American Music Awards, a w plebiscycie Billboardu album "The Massacre" zwyciężył w kategorii najlepszego albumu r&b i rap. Rok później Black Entertainment Television uznała go za najlepszego artystę hip-hopowego. Mimo wielu nominacji raperowi nie udało się do tej pory zdobyć nagrody Grammy.
W maju 2009 roku swoją premierę miał singel "Ok, You're Right", który zapowiada nowy album - "Before I Self Destruct" (premiera - listopad 2009).