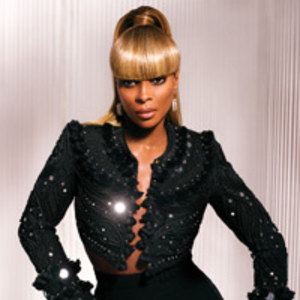 fot. Universal Music Polska
data urodzenia

11 stycznia 1971

pochodzenie

USA
Biografia
Mary J. Blige urodziła się w Bronxie w 1971 roku. Odkrył ją Sean "Puffy" Combs, a pierwsze nagrania przyniosły jej przydomek "Królowej Hip Hop Soul". Debiutancki album "What's the 411", z 1992 roku, znalazł w USA dwa miliony nabywców.
Od 1992 przez 10 lat wokalistka wydała siedem albumów, poza debiutanckim są to: "My Life" (1994), "Share My World" (1997), "The Tour" (1998), "Mary" (1999) i "No More Drama" (2001) oraz jego reedycja z roku 2002. Wydawnictwa wielokrotnie pokryły się złotem i platyną, a "Mary" otrzymała nominację do Nagrody Grammy. Na jej płytach zawsze pojawiało się wielu znamienitych gości, jak Busta Rhymes, Lauryn Hill, Eric Clapton, George Michael, Elton John, Eve, Hakeem, Missy Elliot i Lenny Kravitz.
"No More Drama" jest, jak mówi sama Mary, odą do muzyki funky, duchowej miłości i poświęcenia. Nie ma na nim ballad, a głównie szybsze utwory. W założeniu album jest drugą częścią trylogii zapoczątkowanej poprzednim albumem "Mary" z 1999 roku, najlepiej sprzedającym się spośród wszystkich wydawnictw Blige.
Kolejny studyjny album Mary - "Love & Life" - ukazał się w sierpniu 2003 roku. Jego producentami wykonawczymi są Mary J. Blige i P. Diddy (pracowali już wspólnie przy płytach "What's The 411" i "My Life"), a za dwa nagrania odpowiedzialny był Dr. Dre. Wśród gości można usłyszeć między innymi 50 Cent, Method Man, Eve i Jay Z. Na płycie znalazły się zarówno przebojowe nagrania w rodzaju "Love & Life", jak i czułe ballady miłosne ("Special Part Of Me"), czy odwołująca się do muzyki gospel kompozycja "Ultimate Relationship". Płytę jako pierwszy promował singel "Love @ First Sight".
Następne albumy artystka wydawała rzadziej, ale dość regularnie. Płyta "The Breakthrough" ujrzała światło dzienne w 2005 roku. Dwa lata później premierę miała "Growing Pains", a w 2009 roku ukazała się "Stronger with Each Tear".
Najnowszym wydawnictwem Mary J. Blige jest płyta "My Life II... The Journey Continues (Act 1)". Płytę zwiastuje singel "25/8". Tym razem za brzmienie materiału odpowiedzialna jest pierwsza liga nowojorskich producentów - Danja, Stargate, Swizz Beatz, The Underdogs oraz Kanye West.
Mary zawsze była kimś więcej niż tylko muzykiem doskonale wiedzącym, na czym polega granie współczesnego R&B. Artystka często angażuje się w akcje charytatywne: antynarkotykowe, edukacyjne, zdrowotne. Magazyn "The Rolling Stone" przyznał jej nagrodę "Do Something" (Zrób Coś) za jej pracę humanitarną, otrzymała też nagrodę za całokształt pracy od 100 Black Men.
Poza angażowaniem się w muzykę i działalność charytatywną Mary poświęca się także karierze aktorskiej. W 2012 roku ukaże się film "Rock of Age", w którym wystąpi obok Toma Cruisa i Aleca Baldwina.
(Źródło: RMF FM; uzup. własne)