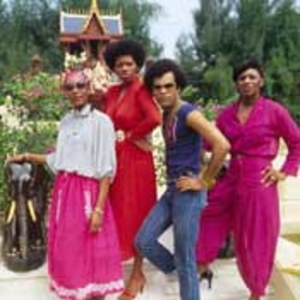 data powstania

1975

pochodzenie

Niemcy
Biografia
Niemiecka dyskotekowa grupa Boney M odnosiła ogromne sukcesy na europejskim rynku na przełomie lat 70. i 80. Zespół stworzył producent Frank Farian. W 1975 roku zebrał ciemnoskórych artystów pochodzących z Indii Zachodnich, którzy pracowali w Wielkiej Brytanii, Niemczech Zachodnich i Holandii. Były to wokalistki Marcia Barrett i Liz Mitchell, modelka Maizie Williams i DJ Bobby Farrell.
Pierwszy singiel Boney M "Baby Do You Wanna Bump?" ukazał się w 1975 roku jednak międzynarodowy sukces przyszedł rok później, wraz z przebojami "Daddy Cool" i "Sunny" (cover piosenki Bobba Hebba). W maju 1977 roku na rynku pojawił się singiel "Ma Baker", w październiku "Belfast", a w kolejnym roku "Rivers Of Babilon / Brown Girl In The Ring" (singiel z podwójną stroną A, który stał się drugim najlepiej sprzedającym się singlem w historii Wielkiej Brytanii).
Sukces tych piosenek spowodował, że Boney M był najpopularniejszym, oprócz słynnej ABBY, tanecznym zespołem w Europie.
Do 1985 roku kwartet nagrał dziesięć albumów, później grupa kontynuowała działalność zarówno fonograficzną jak i koncertową jednak nie odnosiła już sukcesów.
Obecnie istnieje pięć składów pod nazwą Boney M.
30 grudnia 2010 roku Bobby Farrell, oryginalny męski członek Boney M., zmarł w St. Petersburgu po koncercie. Piosenkarz i tancerz przed i po występie narzekał na problemy z oddychaniem.