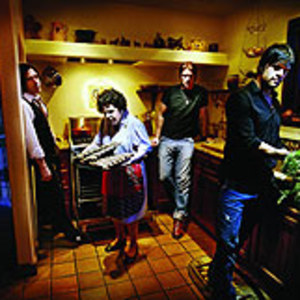 data powstania

1997 r.

pochodzenie

USA
Biografia
Zespół Queens Of The Stone Age powstał w Palm Desert w Kaliforni w 1997 roku sformowany przez Josha Homme i Nicka Oliveri, po rozpadzie grupy Kyuss.
Duet, z różnymi muzykami w składzie, nagrał trzy albumu: "Queens of the Stone Age" (1998), "Rated R" (2000) oraz "Songs for the Deaf" (2002).
W 2004 roku z powodu destrukcyjnego i agresywnego zachowania Oliveri został wyrzucony z zespołu.
Homme z kolejnymi nowymi muzykami kontynuował działalność, wzbogacając dyskografię o kolejne trzy pozycje: "Lullabies to Paralyze" (2005), "Era Vulgaris" (2007) oraz "...Like Clockwork" (2013).
Od strony artystycznej Queens Of The Stone Age łączą w swojej muzyce szereg rockowych gatunków, od hard rocka przez rock psychodeliczny, aż do desert rocka, którego są faktycznie głównym przedstawicielem.
Aktualny skład grupy, oprócz Homme'a, tworzą: Troy Van Leeuwen, Michael Shuman i Dan Fertita.